Festival of Flight
Saturday 19th August 11 am - 4 pm
Blakehill Nature Reserve, Cricklade SN6 6RA
Join the Wiltshire Wildlife Trust on the historic airfield of Blakehill to celebrate the wonder of all things that fly! From Dakota to Dragonflies, whether your interest is the history of the former airfield, the wildlife of the reserve or just having fun, there will be something of interest for everyone. All ages welcome. Admission free.
https://www.wiltshirewildlife.org/Event/festival-of-flight
Information about WOS
Wiltshire Ornithological Society was formed on November 30th, 1974, and has grown in recent years to more than 500 members.
Our mission is to encourage and pursue the study, recording and conservation of birds in Wiltshire
Portraits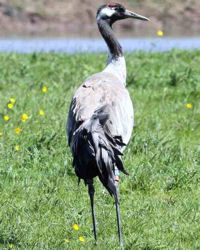 Latest News

CWP Coordinated Gull Roost Count The last coordinated count of gull roosts in the CWP was undertaken in winter 2005/06. In conjunction with the BTO Winter Gull Roost Count in 2003/2004 and a series o...

A new Atlas section has been added to the web site. This shows distribution and abundance maps for most of the birds that can be found in Wiltshire. To access the Atlas, select Atlas from the menu i...