You are here:  

New Incumbents
Latest News
Published: Sunday, 15 January 2017 20:20
We are very sorry to have to announce that James Ferguson-Lees, President of the Wiltshire Ornithological Society, died on the 11th of January at the age of 88. James moved to the village of Rode in Somerset in the late 1970s, and in 1984 he carried out a breeding bird survey of the Longleat Estate and later he became involved, together with John Pollard, a founder member and long-time Treasurer of WOS, in a project to install Pied Flycatcher nest boxes at Longleat. It was WOS's good luck that because of this connection, he decided to become involved in the activities of WOS rather than the Society's Somerset counterpart. He joined the Society in 1984 and was elected to the Executive Committee in 1994, where he served until 2006 when he was elected President of WOS, a position he held until his death. Among his many contributions to the work of the Society were chairing the Wiltshire Tetrad Atlas Group, responsible for planning and organizing the fieldwork for Birds of Wiltshire (1995-2001) and subsequently as Chief Editor on the Birds of Wiltshire Editorial Board (2002-2007). James had also held many senior positions in the national birding community, including editor of British Birds, President of the British Trust for Ornithology, Deputy Director of the RSPB and Records Committee Chairman of the British Ornithologists' Union. He wrote or co-authored a number of books and was one of the original planners of The Birds of the Western Palearctic. He will be greatly missed.
A full obituary will be published in WOS News and in Hobby in due course.
Information about WOS
Wiltshire Ornithological Society was formed on November 30th, 1974, and has grown in recent years to more than 500 members.
Our mission is to encourage and pursue the study, recording and conservation of birds in Wiltshire
Portraits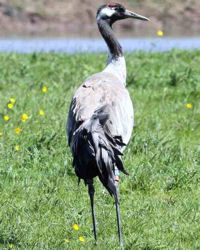 Latest News

A new Atlas section has been added to the web site. This shows distrib...

The two peregrine chicks being raised on Salisbury Cathedral have fled...