North Wilts Group
6th May 2013 - Swindon STW
I went to Swindon STW yesterday morning to set some nets in readiness for this morning but spent most of the time watching two male Cuckoos chasing each other around. We had a large team today of Simon, Paul, Lucy and Steve and we met at 445. We quickly set a single net with the female 'bubble' call playing, it is essential to get this set up in the dark. We put up the rest of the nets and on first check of the Cuckoo net, there it was right in the middle shelf, a fabulous male Cuckoo. We were all absolutely delighted because it is the first we have ringed for about 8 years and they have been really scarce in recent years.
It was a glorious calm sunny day and it soon became obvious that migrants had gone straight over us as we were left with resident birds and returning warblers. With the vegetation starting to really green up, reeds beginning to emerge and several species of butterfly on the wing including gorgeous Orange Tips it really was a joy to be out.
Many of the resident female birds had obvious brood patches so at last the breeding season is seriously underway. We only ringed 24 birds and processed 41 retraps but we did capture a control Sedge Warbler.
MP/SW/PA/SB/LO
Cuckoo 1, Reed Warbler 1 (1), Sedge Warbler 3 (5), Blackcap 2 (1), Whitethroat 3 (4), Lesser Whitethroat 1, Willow Warbler 1 (1), Chiffchaff 1, Dunnock 3 (9), Robin 1 (1), Wren 1 (5), Blackbird 2 (8), Greenfinch 1, Bullfinch 2, Goldfinch 1, Reed Bunting (2), Blue Tit (2), Song Thrush (1), Long Tailed Tit (1)
A touch of May Magic.....
6th May 2013 - Salisbury Plain (centre)
What a difference a week makes. With actual leaves on trees now and an early morning starting temperature of a toasty 1°c it seems that spring has actually arrived. The first two birds of the morning were once again Grasshopper Warbler's . There seems to have been a bit of an influx of new birds as we ended the morning with five new Groppers, a day record for the site. With no retraps from birds caught in the same nets during the last two weeks I guess the original birds were just passing through. Also now on site in good numbers are Garden Warbler's with six new and five retraps, including two from 2010. All seven singing Nightingale's on site all seem to be on territories since they were all in the same locations as last week. We did manage to catch one retrap which was unfortunately the same bird as last week. The last bird of the morning ringed was a rather nice Green Woodpecker proving that while it can spend the whole morning playing chicken with some of the nets, it didn't know where we'd put all of them. A decent morning in the sunshine with 59 new and 30 retraps. GD/PD/OF
Green Woodpecker 1, Wren 2, Dunnock (4), Robin 3(2), Nightingale (1), Blackbird (1), Song Thrush (1), Grasshopper Warbler 5, Sedge Warbler 1, Lesser Whitethroat 2, Whitethroat 16(7), Garden Warbler 6(5), Blackcap 16(2), Chiffchaff (5), Willow Warbler 1(1), Long Tailed Tit (1), Blue Tit 2, Chaffinch (1), Goldfinch 1, Bullfinch 3
2nd May - Salisbury Plain (east)
The cold clear night became a warm sunny day and the breeze only appeared at the end of the session. Once again, the first bird we heard this morning was a Grasshopper Warbler reeling. We very quickly got 17 nets up dotted around this site that we only ringed for the first time last July and so we don't really know the best spots and what actually breeds amongst this lovely scrub site high on the Salisbury Plain. The total of 56 new birds and 7 retraps kept us occupied but as ever the avian action on the Salisbury Plain tails off quickly and the military action takes over and we finished quite early. We retrapped a Lesser Whitethroat, Willow Warbler and Whitethroat from last summer but best of all we recaptured a control Lesser Whitethroat which is fantastic. MP/JN/OF
Whitethroat 10 (1), Lesser Whitethroat 2 (2), Willow Warbler 9 (1), Blackcap 1, Grasshopper Warbler 1, Bullfinch 6, Chaffinch 5, Goldfinch 6, Linnet 1, Yellowhammer 6, Dunnock 4, Wren 1 (1), Blackbird 2 (1), Long Tailed Tit 1 (1), Blue Tit 1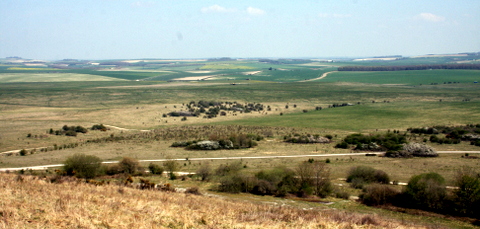 A suprise catch in the bottom shelf........do they take a J or a K overlap?
29th April - Recent Recoveries
The latest bunch of recoveries has just arrived from the BTO. There were a few nice movements around the country and one outstanding recovery from France of the only adult Lapwing I've ever caoght. GD
Chiffchaff Westdown, Salisbury Plain 27 Sep 2011 to Budleigh Salterton, Devon 27 Mar 2013 (GD)
Linnet Hannington 11 Feb 2011 to Kendal, Cumbria 2 Apr 2013 (MP)
Robin Westdown, Salisbury Plain 27 Sep 2011 to East Stour, Dorset 19 Feb 2013 (GD)
Reed Bunting Swindon STW 9 Feb 2012 to Brandon Marsh, Warks 16 Feb 2013 (MP)
Lapwing Nightingale Wood, Swindon 13 Jul 2005 to Roz Landrieux, Ille-et-Vilaine France 31 Dec 2012 (GD)
Reed Bunting Brimpton GP, Berks 22 Oct 2011 to Nightingale Wood, Swindon 12 Feb 2013 (GD)
28th April 2013 - Salisbury Plain (centre)
Since the half of the group that usually come out with me to this site were either abroad on holiday or playing with their organ (the church type) it was all down to me today. Even with a very early start I only managed to get 11 nets ups in time since it's hellishly difficult to get nets up on chalk downland on your own. The advantage of being on your own is you do get to ring all the good birds you catch.It was certainly a morning of quality rather than quantity as summer migrants were still thin on the ground with virtually no Whitethroat's which are normally the site's most common bird. The first two birds were Grasshopper Warbler's with another two later on which were followed shortly after by a Redstart. Reed Warbler and Lesser Whitethroat's then made their first appearance of the year in the nets. The best bird of the day was the last, a nice Tree Pipit which is only the second one I've caught at this site in the Spring compared to over 100 in the Autumn.Even the retraps had some quality to them with a Nightingale first caught in 2009 and a Blackcap and Chiffchaff from 2007. GD
Tree Pipit 1, Wren 3, Dunnock (1), Robin 2(1), Nightingale (1), Redstart 1, Song Thrush 1, Grasshopper Warbler 4, Reed Warbler 1, Lesser Whitethroat 2(1), Whitethroat 3(1), Blackcap 9(1), Chiffchaff (5), Willow Warbler 7(2), Chaffinch 1(1), Goldfinch 2, Bullfinch 1, Yellowhammer 2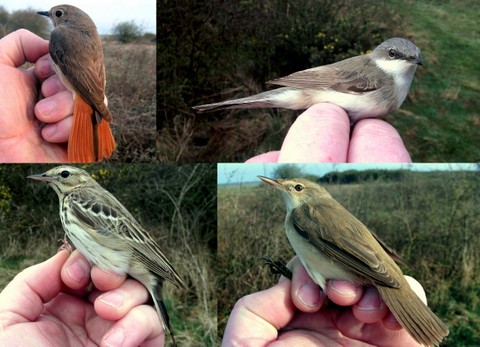 28th April - Swindon STW
Due to our good efforts last night it was a relatively late start this morning, meeting at Swindon STW at 515. Just about the first bird heard was a reeling Grasshopper Warbler. The sky was grey and overcast but flat calm and after the fall at Portland yesterday we fancied our chances of a bit of an influx of migrants and so it proved as on the first round our nets had plenty of warblers in the bottom shelves including a remarkable 3 Grasshopper Warblers, a site record so lets hope that some stay to breed like they did last year. A Garden Warbler was the first for the year and is quite an early date considering that everything else is so late. Star bird of the day however was a Spanish ringed Sedge Warbler which made everyone's day. We were all also delighted to hear that most welcome of summer sounds in the form of a Cuckoo that sadly did not grace our nets, and is now a site rarity. The temperature dropped and it became decidedly cold and birds stopped moving so we took nets down at about 11am when it started warming up and we caught a few more warblers in the last few nets. A few Swallows hawked over the lagoons and it would be great if they stayed to breed like they have for the past few years.
3 Reed Buntings retrapped followed the same pattern as last week, with every capture being in the breeding season further justifying the view that they winter elsewhere; the oldest being four years old. The day also saw the first Reed Warblers of the year including an old friend back for its third year and a Whitethroat back for its fourth year.
All in all, another excellent day of Spring migration with 56 ringed and 49 retrapped. MP,JN,PA,SW
Grasshopper Warbler 4, Sedge Warbler 14 (2), Reed Warbler 2 (1), Garden Warbler 1, Blackcap 5 (2), Whitethroat 7 (4), Willow Warbler 4, Chiffchaff 0 (1), Reed Bunting 2 (5), Chaffinch 3 (1), Lesser Redpoll 2 (1), Greenfinch 4 (2), Bullfinch 1 (3), Linnet 1, Blackbird 2 (2), Dunnock 0 (2), Robin 0 (2), Song Thrush 0 (1), Wren 0 (2), Long Tailed Tit 0 (2), Blue Tit 1 (5), Great Tit 3 (10), Great Spotted Woodpecker 0 (1)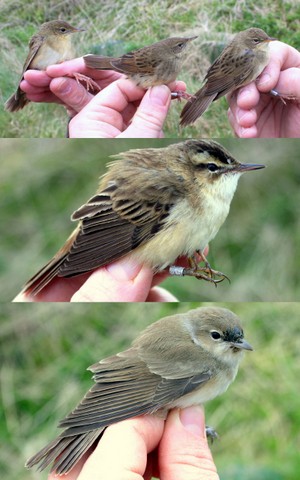 Wake up Jack.......ringing tick!
27th April 2013 - Kennet Valley
Paul, Jack, Olly and I comprised a good team lined up for another great session in the beautiful Kennet Valley, as one of the team said 'it is a privilege just be here'. Nets were set with stunning efficiency and as day broke we were soon aware that the Redpoll flock was still present with many singing and they were hitting our feeders with fervour. Blackcaps, Willow Warblers and Chiffchaffs were all conspicuous and the team were kept busy all morning with some really good work being done on ageing and sexing Redpolls. Mandarins were whizzing up and down the river and we can consider ourselves a bit unlucky not to have caught one. A female Barn Owl flying around at dawn, plenty of Swallows and a Swift helped the birding side of the morning.
We retrapped a pair of Marsh Tits and the female had a brood patch so it is good to see them breeding, but the lone Willow Tit that we retrapped was showing no signs of breeding activity. The Redpoll flock yielded more same winter retraps but also a bird ringed last winter and another control (ringed elsewhere).
The totals of 75 ringed and 39 retrapped made for another superb 'spring' morning ringing experience.
We met the river keeper on his rounds and he is always good value for a chat about the countryside and we passed him a big bundle of tree cuttings so that he can create yet more excellent habitat.
Most ringing groups would then probably go home or the odd person might slope off to let the others do the work but this bunch; We proceeded to Swindon STW and met Simon and we set 12 nets ready for the morning.

MP/PA/JN/OF
Lesser Redpoll 31 (8), Chaffinch 12 (6), Siskin 1, Goldfinch 2, Blackcap 5, Willow Warbler 5 (2), Chiffchaff 2, Whitethroat 1, Great Tit 5 (9), Blue Tit 2 (2), Willow Tit (1), Marsh Tit (2), Coal Tit 1, Long Tailed Tit (3), Dunnock 1 (3), Blackbird 3, Nuthatch (1), Wren (1), Great Spotted Woodpecker (1)
25th April 2013 - Nightingale Wood.
A bonus mid-week session today with mostly the same net set as Sunday. While setting the nets a Grasshopper Warbler started singing and was quickly encoraged into becoming the first customer of the morning. The second bird of the morning, a control Blackcap Y477147 kept the good start going. Most of the Willow Warbler's that were around at the weekend appear to have moved on but there were still plenty of Blackcap's, with birds singing from almost every bush. Three Sedge Warbler's were singing from the reedbed, the first of the spring and two Lesser Whitethroat's were singing from the hedgerows. Not too many birds caught, but a nice easy paced morning of coffee and biscuits in the sunshine. GD/OF
Wren (2), Grasshopper Warbler 1, Sedge Warbler 1, Whitethroat 1(1), Blackcap 18(4), Chiffchaff (1), Willow Warbler 2(1), Long Tailed Tit 2, Blue Tit 1, Bullfinch 1(2)
Information about WOS
Wiltshire Ornithological Society was formed on November 30th, 1974, and has grown in recent years to more than 500 members.
Our mission is to encourage and pursue the study, recording and conservation of birds in Wiltshire
Portraits
Latest News

A new Atlas section has been added to the web site. This shows distrib...

The two peregrine chicks being raised on Salisbury Cathedral have fled...