West Wilts Group
The Firs, Saturday 14th December 2013
The catch in the Firs has definitely improved since the Wiltshire Wildlife Trust invested so much effort into opening up of the central glade and the establishment of two ponds in that area. Today only 5 species were trapped but we caught 3 Goldfinch – the first 3 that have been trapped there since ringing started at the site 16 months ago. The list was as follows, New (Retrap): Blue Tit 27(14); Great Tit 11(13); Coal Tit 3(2); Chaffinch 5; Goldfinch 3. Totals 49 New, 29 Retraps. ST / GC / MM
Ravensroost Woods, 7th December 2013
This morning was an overdue session at Ravensroost Woods. With the feeding stations operational and attracting good numbers of birds already I only set 3 net rides with 84 metres of net and caught 44 new birds and 7 retraps in a little over 3 hours.
The list was as follows: new birds (retraps) Blue Tit 12(3); Great Tit 11(2); Coal Tit 8; Marsh Tit (1); Long-tailed Tit (1); Treecreeper 1; Robin 2; Blackbird 1; Redwing 1; Goldcrest 6; Chaffinch 1; Bullfinch 1.
The retrapped Marsh Tit was one I had ringed as a juvenile back in August - proof that they are breeding in the wood. Ever present was the screeching of Jays, who seem to be in a constant state of turmoil at the moment.

Somerford Common, 30th November 2013
Today was spent ringing on Somerford Common. Having set up the feeding station last weekend I was expecting a huge influx of Blue, Great and Coal Tits: and I was not disappointed. Every other one decided that today was a good day for occupying multiple pockets of the net so I extracted 92 birds today from about 120 net pockets.
Ringed (Retrap) Blue Tit 19(2); Great Tit 10(4); Coal Tit 11(6); Long-tailed Tit 3(2); Great Spotted Woodpecker (1); Nuthatch 3(1); Treecreeper (2); Wren 2(1); Robin 3(2); Blackbird 2; Goldcrest 5(2); Chaffinch 2; Siskin 1 Totals: 59 ringed, 23 retrapped.
The highlight was my first Siskin of the autumn / winter, but the most interesting was a Coal Tit which, as you can see from the photo beloiw, has white spots throughout the black of the head. ST
Lacock Allotments, 26th November 2013
Our first winter session at the Lacock Allotments presented an ideal opportunity for trainee Andrew to enjoy a good old 'bread and butter' ringing session. This meant no fancy rarities but the delights of frozen feet, pressure extracting and processing and above all experiencing the joys of having cute little Blue Tits peck hell out of his fingers!
Thanks to the enthusiasm of Martin and Iris, the owners of one allotment and the kind permission of the National Trust, we are able to net there several times during the winter and because there are two feeding stations, numbers caught are usually reasonable. Today we were not disappointed with a creditable 99 birds processed (It's not cricket so one more was neither here nor there!!)
Pleasingly good numbers of young Great and Blue Tits were caught as was a feeding flock of Long-tailed Tits. Several adults from last winter were also evident. Star bird was probably the male Blackcap, presumably one of our continental winter visitors, and a first for the site . Other highlights were the pair of Nuthatch, the female a retrap from last February and three House Sparrows, a species of which we handle very few. The noticeable absence of Coal Tits, generally common at this site was interesting and mirrors the results of our colleagues in the North Wilts RG at their sites. On the worrying side a Chaffinch with a very bad case of the papilloma wart virus was trapped and we have not come across this at this site before, although have seen instances at a couple of other places.
RT, MJH, AJB
Totals; Blackcap 1, Blackbird 8, Robin 7, Dunnock 5, Nuthatch 1(1), Long-tailed Tit 7(3),Blue Tit 32(9), Great Tit 19(1), Coal Tit 1, Chaffinch 1, House Sparrow 3. 85 new 14 retraps
Red Lodge - what is happening? , 24th November 2013
Red Lodge wood is a Forestry Commission managed mixed woodland and plantation. Until fairly recently part of it was a nature reserve run by the Wiltshire Wildlife Trust and centred around a pond near to the north entrance off the B4696. Over time the pond became degraded, silting up and turning to scrub, the remaining water was choked with Equisitales and its value as a pond became negligible. In the course of my last ringing report on the site back in August I mentioned the problem with the pond to my contacts at the Forestry Commission. To my absolute astonishment they managed to find some money in their conservation budget to do something about it - and they have. Visiting the site to decide where to put my feeding station for this winter in the middle of October I was delighted to find that the deed was done. It might not look much at the moment but with the pond being some 40m in diameter I am hoping we will see sufficient bank- and pond-side vegetation to encourage in Sedge and Reed Warblers in the next couple of years.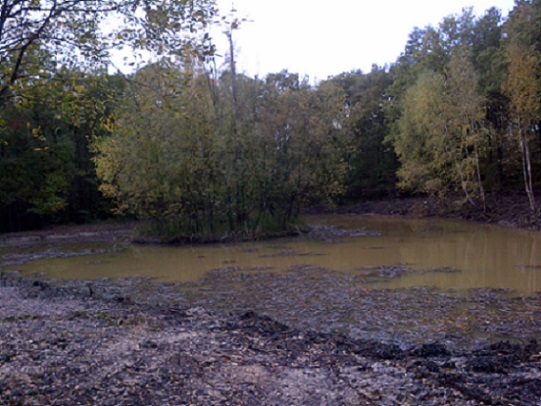 Today I did a ringing session in Red Lodge and the results were the best I have had at the site. I was joined by Geoff Carss, a trainee ringer who wants additional ringing time to develop his skills. The star of the show was a late or over-wintering Chiffchaff:
The list that we had was as follows New (Retrapped): Nuthatch 2; Blue Tit 37(2); Great Tit 21(1); Coal Tit 3(1); Long-tailed Tit 13(4); Marsh Tit 1; Wren 5(1); Robin 3; Chiffchaff 1; Goldcrest 10. Totals: 96 New, 9 Retrapped. ST / GC
There are a few avian diseases around at present. One of the more obvious ones is a form of pox which appears to be predominantly affecting Great Tits. In the last couple of years I have only seen one incidence, in Ravensroost Woods, but today two of the new birds in Red Lodge were suffering:
In this example the pox is at an early stage (not surprising as this is a juvenile bird). The lesions can grow to be quite large but, provided they don't occur somewhere vital, they do not kill the bird and they can recover. From a ringing session at Farmoor Reservoir a couple of years ago it would seem the disease is far more prevalent in Oxfordshire but if you do start to see birds with this sort of lesion around the head or the legs could you please let me know so that data can be collated on the spread of this disease through the county. If you could supply the date, the location and the position of the lesions on the bird that would be very helpful. Please send your sightings to This email address is being protected from spambots. You need JavaScript enabled to view it.. I will produce annual maps of sightings of birds with the pox, which might give an indication of whether the disease is already prevalent here or if it is spreading into the county from particular directions, and how quickly.
Ravensroost Woods, 13th November 2013
This morning I went for a short session in Ravensroost Woods. With thousands of Redwing and Fieldfare coming into the country I decided to see if there were any Redwing in the wood, so I took an appropriate tape lure with me. I am delighted to say that it worked: I had 3 Redwing come to the tape, along with 3 Blackbirds.
The list was as follows: New (Retrap) Blue Tit 4(1); Long-tailed Tit 1(4); Wren 1; Robin 1; Blackbird 3; Redwing 3; Goldcrest 4(1); Goldfinch 1; Bullfinch 3.
The Bullfinches were 1 male and 2 females fledged this year, and because I cannot resist them, photos follow:
Wood Lane, 10th November 2013
As the weather forecast for Sunday was so good: dry with very little wind I ringed one of my more open sites, in Wood Lane, backing on to Webb's Wood. It is a site that is fed all year round with peanuts and nyjer seed and comprises two dwellings, two ponds separated by a 10 acre field and surrounded on all sides by, amongst others, mature oak and small-leafed lime trees with a newly planted stand of trees at the east end of the field. The catch is always varied with Blue Tits being the main species, followed by Great Tit. In an effort to increase the variety of the catch I set my nets away from the peanut feeders most often used by the Tits. They were set in the newly planted wood along an edge between the wood and the pond, between the new wood and an established stand of mature trees and also around the nyjer feeders for finches and Goldcrests. As one might guess from the preamble: I had the largest haul of Blue Tits I have ever had at the site. It was a long day and the following were caught:
New (retrapped): Great Spotted Woodpecker 2(1); Blue Tit 49(7); Great Tit 15(4); Coal Tit 2; Long-tailed Tit 1(1); Wren 5; Robin 1(1); Blackbird 1; Goldcrest 1; Lesser Redpoll 1(1); Chaffinch 1.
Totals: 79 New; 15 Retrapped.
The star bird of the day was a retrapped Lesser Redpoll which is not on one of my rings and is not a ring sequence that I have come across before: it will be interesting to find out where it came from. The BTO will send a report of where it was ringed, how many days ago and what the distance is between where it was ringed and Wood Lane where it was retrapped.
I had help setting up from Geoff Carss, a trainee that is going to be working with me for a few weeks, who had the chance to extract and process a few birds. It was a good day for working on my extraction skills: on a day when the Wrens were all well behaved the Blue Tits took on the role of double-pocketing, spinning and combinations of both, with the added disadvantage that Blue Tits are the feistiest birds you are ever likely to handle and peck continuously with one of the sharpest bills you will come across: still all were safely extracted in a timely manner and I only had to cut the net for one of them. This is just as well, as the three pheasant sized holes in one of my 12m nets were an unwelcome finding and will give me something to do on those long wet winter nights. ST GC
The Firs, 7th November 2013
I spent today ringing the Firs. This has been the least productive of my sites so far but it is one that the Wildlife Trust are spending a lot of time on improving, particularly opening up the canopy and forming glades to encourage butterflies. Earlier this year I suggested that, although it is a wet wood, it could benefit from having an established pond to encourage insects and therefore feed the birds, one month later there were two ponds - and very productive the wood has become already.
The catch was as follows, ringed (retrapped):
Great Tit 13(3); Blue Tit 29(9); Coal Tit 1; Long-tailed Tit 2; Wren 2(2); Robin 2(2); Blackbird 1; Goldcrest 9.
When you compare this with the autumn catch from last year which comprised 13 new and 3 retrapped you can see that the opening up of the wood would seem to have had a big impact. How much of that is down to the improved weather this year is hard to say but Ravensroost at this time last year had 30 ringed and 16 retrapped against 39 ringed and 11 retrapped in a comparable session this year, so there must be a factor in play that has improved the numbers in the the Firs so dramatically and that is most likely the changes to the habitat.
Information about WOS
Wiltshire Ornithological Society was formed on November 30th, 1974, and has grown in recent years to more than 500 members.
Our mission is to encourage and pursue the study, recording and conservation of birds in Wiltshire
Portraits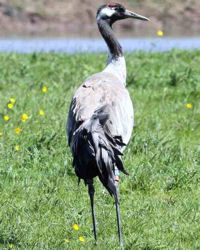 Latest News

CWP Coordinated Gull Roost Count The last coordinated count of gull roosts in the CWP was undertaken in winter 2005/06. In conjunction with the BTO Winter Gull Roost Count in 2003/2004 and a series o...

A new Atlas section has been added to the web site. This shows distribution and abundance maps for most of the birds that can be found in Wiltshire. To access the Atlas, select Atlas from the menu i...