You are here:  

Blakehill Farm: Sunday, 18th June 2017
West Wilts Group
Ravensroost Meadows & Pond, Saturday 17th August 2013
What a morning: I decided to do Ravensroost Meadows and pond as I did two sessions in Ravensroost Woods last weekend. It was a good decision.The highlights were: 4 x Lesser Whitethroat; 1 x Reed Warbler and 2 x Swallow. What is more: I ringed my 5,000th bird this morning: a Goldfinch juvenile.
I knew that the Lesser Whitethroats were around but they have tended to be away from the pond area so I was lucky to get such a good crop. The Reed Warbler was a first for me to see, let alone ring, at that site. The Swallows were also satisfying in that I had watched how they had hawked over the pond a couple of weeks ago and so I put a net along the causeway and caught both Swallows and a Whitethroat in that net.
The list was as follows: adult (retrap) [juvenile]
Swallow 1 [1]; Great Tit 1; Blue Tit [2]; Wren (1) [1]; Dunnock 1 [1]; Robin [1]; Blackbird (1) [2]; Reed Warbler 1; Blackcap [3]; Whitethroat 1 (1) [6]; Lesser Whitethroat 3 [1]; Chiffchaff [6]; Willow Warbler 1 [2]; Goldfinch 1 [3]; Chaffinch [2]
Totals: 10 adults ringed; 3 retraps processed; 33 juveniles ringed.
Wood Lane, 11th August 2013
A session on Sunday morning turned out to be nicely productive. For once, it was nice to get my hands on some Blue and Great Tits. There are always plenty in the autumn and winter but they tail off in the spring and I catch very few in the summer.
The list was as follows: unringed adult (retrap) [juvenile]: Great Tit 1 (1) [13]; Blue Tit 1(1) [15]; Treecreeper [1]; Wren 1 [1]; Dunnock [1]; Robin [3]; Blackbird [1]; Blackcap [3]; Chiffchaff [5]; Willow Warbler 1; Chaffinch 6 [1]; Goldfinch [2]

Total ringed: 56, including 10 adults and 46 juveniles; Retrapped: 2
Ravensroost Woods, 9th & 10th August 2013
Two really excellent sessions in Ravensroost on the 9th & 10th August. On Friday I did some ringing in the north end of the wood. There were three net rides with a total of about 80 meters of net. This was my first use of tape luring as the breeding season is now over. I taped for Marsh Tit, Blackcap and Garden Warbler.
Friday's list was: adult (retrap) [juvenile] Blue Tit [3]; Marsh Tit [1]; Treecreeper [1]; Robin 1 [6]; Blackbird [1]; Blackcap [3]; Chiffchaff [6]; Bullfinch 2 [6] Total: 3 adults, 27 juveniles.
The highlights were twofold: proof that the Marsh Tits are breeding in the older part of the wood and, the seeming resurgence of Bullfinches in the wood since the Trichomonosis outbreak.
Saturday morning was the second ringing demonstration in Ravensroost this year (and my third for the Trust). Once again a big thank you to Rob Turner and Ian Grier for their help, particularly as we had 25 adults and 6 children attend. They did the extractions, the scribing and quite a lot of the demonstrating as well as the grunt work of putting up and taking down the nets. As before, it was enthusiastically received and I think we might have had a couple of ringers of the future in the group, although one young girl became a bit less keen when the Coal Tit juvenile she was holding decided to give her a sharp peck.
The list was:
Coal Tit [2]; Dunnock [1]; Wren [3]; Robin [6]; Blackcap [2]; Chiffchaff [7]; Willow Warbler 1.
Total: 1 adult, 25 juveniles.
SPTA(W) Battlesbury 04 August 2013
Our first late summer visit to Battlesbury saw almost the whole group on site enabling a maximum coverage of 13 nets to be managed. Unfortunately as is often the case on SPTA, the windy conditions did not help catching particularly that of the Goldfinch net.
The site is quite small and catch size very much depends on the number of birds on the move at the time and today movement was negligible! Twenty one birds were captured.
The slow pace did however enable our two trainees Geoff and Andrew to explore the subtleties of Whitethroat and Willow Warbler ageing, as well as completing moult scores on five adults. Two Lesser Whitethroats (a juvenile and an adult), a juvenile Reed Bunting and 2 Yellowhammers were processed along with 2 retrap Willow Warblers, one of which had been ringed as a juvenile here in July 2012, a good example of site fidelity.
The surprise bird of the day and a first for the site was a Treecreeper which also provided the opportunity to carry out extensive biometrics eliminating Short-toed....if Thrush Nightingales can turn up, why not!!!
RT, IG, RP, DH, GC, AB
July Round-up
Due to a computer that died on me at the beginning of July and then the wonder that is getting to grips with Windows 8, I have decided to put a synopsis of my July activity together.
5th July, Red Lodge Wood: I was trying out a different set of net positions in the wood as it has dried out now and you can get further into the heart of it. Those running north to south were successful, east to west were a waste of time: yet the structure was remarkably similar. The list was: new adult / unaged (retrapped) [young]:
Jay 1; Great Tit [1]; Blue Tit [1]; Coal Tit [1]; Treecreeper 1; Wren 1; Song Thrush 1; Blackbird 1; Blackcap 3 [1]
6th July, Ravensroost Woods: Nuthatch [1]; Great Tit [1]; Blue Tit [1]; Wren 1 [2]; Robin (1) [4]; Blackbird 1; Blackcap 1 [1]; Chiffchaff [3]; Willow Warbler 1. The Nuthatch was going through its post juvenile moult: another couple of weeks and it would be indistinguishable from the adults.
11th July, Ravensroost Meadows: This was a new position outside of the woods by the meadow pond - and was very different from other Ravensroost ringing:
Swallow 1; Blue Tit 1 [2]; Robin [1]; Song Thrush [1]; Blackbird 5; Garden Warbler 1; Whitethroat 3 [3]; Starling [3]; Goldfinch 1 [2]; Chaffinch 2; Bullfinch 1
20th July, Webb's Wood: Great Tit [1]; Blue Tit [1]; Long-tailed Tit 2 [4]; Wren [1]; Robin 1 [1]; Blackcap 2 [3]; Chiffchaff [4]; Willow Warbler [2]. As with the Nuthatch, Long-tailed Tit adults and young both go through a complete post-breeding / fledging moult and in a few weeks time age will not be determinable on plumage characteristics.
27th July, Somerford Common - trying out new net positions:
Great Tit [2]; Marsh Tit [1]; Dunnock 1; Wren 2 [1]; Robin [2]; Blackbird 1 [1]; Bloackcap 1 [1]; Willow Warbler [1]; Bullfinch 2 [1]. It might be a conceit but I think the Bullfinches were a family group. They were all at the same height in the same net in the order juvenile, female, male which rather struck me as a foraging group. ST
The Firs 29th June 2013
The Firs is one of the smallest of the Wiltshire Wildlife Trust's reserves but they have been doing a lot of work there, opening up the central glade and establishing ponds. The results have been well worth it: the glade is alive with flying insects, the pond with skaters, water boatmen and whirligigs. Where there are insects there tends to be birds to feed upon them.
Today I had a ringing session in the Firs. There are a lot of young birds around now. The list is as follows split as new adults (retrapped) [juveniles]:
Treecreeper 1; Wren 2 (3) [2]; Robin 4 (1) [2]; Blackbird [1]; Great Tit (1) [2]; Blue Tit 1 [12]; Blackcap 2; Chiffchaff 1 [1]; Chaffinch 1; Bullfinch 1
Totals: 13 (5) [19] making 37 in all.
Juveniles: Blue Tit, Great Tit, Wren, Blackbird
]
Lower Moor Farm, Sunday 9th June
On Sunday, 9th June the Wiltshire Wildlife Trust held an Open Farm Day at their Lower Moor Farm reserve. Following on from the success of the ringing demonstration in Ravensroost on the 23rd February they asked if I would set up a few nets and give a small ringing demonstration. As it was held betweeen noon and 16:00 I was not confident of getting many birds, in the event we had just enough to satisfy 30 or more parents and some 20 children. The enthusiasm of the parents and the interest of the children made it very worthwhile. The birds trapped were all new: Blackbird 2; Song Thrush 1; Wren 1; Garden Warbler 3; Sedge Warbler 1; Whitethroat 1; Chiffchaff 2. The Garden Warblers were interesting: 2 juveniles plus one female who had a brood patch at stage 2: defeathered but not yet vasculated, i.e. she is probably currently laying eggs but not yet brooding. Another example of this strange Spring we have had. One of the two Chiffchaffs was a very young bird: it still had gape and many of its underwing feathers were still in pin. Hopefully the children will remember their close encounters with the birds and become WOS members of the future.
Wood Lane, 2nd June 2013
After a cracking week birding on Dartmoor I was really looking forward to getting some ringing done at my Wood Lane site. Sunday morning started magnificently with 4 Great Spotted Woodpeckers in one net. The catch was as follows, ringed / (retrapped)
Great Spotted Woodpecker 3/(2); Nuthatch (1); Blackbird 2/(1);Robin 2/(1); Great Tit 2/(2); Blue Tit 3/(2); Blackcap 2; Chiffchaff 2; Goldfinch 3/(1); Greenfinch 1. Totals: 20/(10)
The Greenfinch was a very handsome adult male (picture below) and the first caught on this site. Sadly their numbers are still very low. There were some good birds around that I didn't manage to catch, not using tape lures druing the breeding season: a pair each of Mistle Thrush; Spotted Flycatcher and Bullfinch. I was lucky enough to be treated to a lesson on newts by Lysana Robinson: her woodland pond holding all three species (Smooth, Palmate and Great Crested), all of which very obligingly came to her traps for counting.
Information about WOS
Wiltshire Ornithological Society was formed on November 30th, 1974, and has grown in recent years to more than 500 members.
Our mission is to encourage and pursue the study, recording and conservation of birds in Wiltshire
Portraits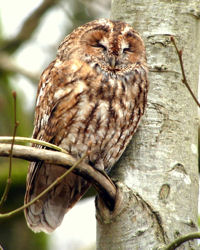 Latest News

In early June, three peregrine chicks were rescued from a nest in Shro...

New Incumbents At the WOS AGM on 5th April, Matt Prior was elected as...