You are here:  

Blakehill Farm: Sunday, 18th June 2017
West Wilts Group
Blakehill Farm: Friday, 28th October 2016
It has been quite a week. After the Goldfinch fest in my garden on Tuesday, followed by the awesome Yellow-browed Warbler on Wednesday, I was hoping that we might have another good experience at Blakehill Farm today. The team comprised Jonny Cooper and, proudly clutching his new C-permit, Andrew Bray (congratulations, well deserved). Because the weather forecast had changed from when I first proposed the visit on Monday, with the wind forecast to be much stronger than originally, I had contemplated changing the venue. Fortunately, I decided that, with the wind coming from the west, the hedgerow would act as a windbreak, which it did quite admirably.
We set two nets on the edge of the plateau, gambling on the initial absence of cattle staying that way. Then we set four nets along the leeward side of the hedgerow, on the perimeter track. Whilst we were putting these nets up, we had excellent views of a hunting Barn Owl, as it flew along the tree line on the edge of the reserve about 100m away from us. It was the first of several good sightings of birds of prey we had during the day: Kestrel being mobbed by Corvids as it flew across the plateau; Sparrowhawk bouncing out of our net and then it, or another, seen later finding a thermal and spiralling up into the sky, whilst a Carrion Crow tried to get above it. It was a fine day for birding, let alone ringing.
In the meantime, we were regularly catching birds. A decent range of species and a good number of birds. Our first round delivered up two Stonechats from the plateau, and our third round delivered another from the same net. Previously my team had only caught a single Stonechat, also at Blakehill Farm. The third bird was a stunning adult male:
The run of Reed Buntings caught at the site continued, with three new birds and four retraps. However, three of the four retraps were not birds of this parish, sporting a ring series that indicated they came from the same location, just not Blakehill Farm. I suspect they will have come from CWP but it will be good to find out. Along with these farmland birds, we had a reasonable catch of Meadow Pipits, but probably only one percent of what was flying around the plateau. The only thing missing were the Linnets. We have seen good numbers on the site, but not today, and they are almost totally missing from our catches at Blakehill this year. There was a decent catch of Redwing, and quite a few flying around. We also saw, but did not manage to catch, a couple of small flocks of Fieldfare.
Amongst the other memorable birds caught were a pair of Magpies. Personally, I love these birds and hate the way they are maligned for behaving naturally (I know people, who should know a lot better, who think they have the right to destroy their nests) and it is always a pleasure to catch them, especially if you can get someone else to extract and process them! They do have sharp claws and beaks but are beautiful birds:
Whilst Andrew and Jonny were extracting the Magpies, I was extracting the first Greenfinches caught on the site: three of them. Jonny then came back with his first ever Starling. I had caught one before, in the garden of Purley farmhouse next door to the site, but it was the first for Blakehill proper. In the next round I extracted another two. So, that is three new species ringed on the site in the last two sessions. It really was a varied and interesting day and catch. Ellie, in her work role, arrived at about 11:00 to remind the others that she was with me when we caught the Yellow-browed Warbler. They took it in the right way - grown men shouldn't cry without a very good reason.
The list for the session was: Magpie 2; Blue Tit 1; Meadow Pipit 8; Wren 4; Stonechat 3; Robin 2; Redwing 13; Blackbird 2; Goldcrest 3; Chaffinch 1; Greenfinch 3; Starling 3; Reed Bunting 3(4). Totals: 48 ringed from 13 species; four retrapped from one species, making 52 birds processed from 13 species. As the number of birds died off significantly after 11:00, we took down and were off site by about 12:30. It was a fine end to an excellent week's bird ringing. ST/JC/AB
*Update*: John Wells kindly confirmed that the three controlled Reed Buntings were originally ringed at Waterhay in 2015. Jonny and I had a short session back at Blakehill today (Wednesday, 2nd November) and added the following to the list: Blue Tit 1; Great Tit 1; Long-tailed Tit (1); Meadow Pipit 5; Stonechat 1(2); Robin 1(1); Redwing 8; Song Thrush (1); Reed Bunting 5. Totals: 22 ringed from seven species; five retrapped from four species, making 27 processed from nine species. ST
Yellow-browed Warbler, Lower Moor Farm: Wednesday 26th October 2016
A brilliant morning at Lower Moor Farm, crowned by ringing my first Yellow-browed Warbler. Everybody knows that the numbers of them have been very high this autumn - but that is in coastal regions: there haven't been anything like as many records inland. With the easterly winds that have been blowing on and off for the last few weeks I had been hopeful that one might turn up. Jonny Cooper, one of my ringing trainees, saw one at Morgan's Hill on the 12th October but, despite using lures to try and attract one in, we hadn't seen hide nor feather of them at any of my ringing sites.
This morning's session was just myself and Ellie Jones (it is so helpful having the reserve manager as one of your ringing trainees), and we decided to focus our efforts on the wildlife refuge area and try out some different net positions from our standard CES positions. We did erect two of the usual rides and three new net rides. Immediately upon completing the net set, we noticed that there were four birds in one of the usual net rides. As I got to the ride I noticed what looked like a Chiffchaff: and then I saw the wing bars. I couldn't believe it: Yellow-browed Warbler in the net, no lure, no expectations and a stunning looking bird.
If that wasn't enough, we had a nicely productive morning and did a couple of impromptu ringing demonstrations to families visiting the reserve. Ellie taught the children how to identify the sex of Goldcrests, and then got them to sex the birds for us. They were very good. Hopefully she has sown a seed of interest for the future.
The list for the day was: Treecreeper (2); Blue Tit 5(3); Great Tit 2; Long-tailed Tit 9(7); Wren 1; Dunnock (1); Robin 1(1); Blackcap 1; Chiffchaff 3; Yellow-browed Warbler 1; Goldcrest 7(2); Goldfinch 1; Bullfinch (1). Totals: 31 ringed from 10 species; 17 retrapped from 7 species, making 48 processed from 13 species. Unfortunately, the wind got up at about 11:00 and so we had to curtail the session a bit earlier than I had planned. Ellie had to leave for a meeting (the inconvenience of having a job) just as we finished taking down the main net rides. I had just one net left to take down (along the lake-side in the picnic area) where, as is par for the course when you think you have finished for the day, there were 10 Long-tailed Tits and one Blue Tit in the top shelf of the net. Still, with the dearth of all species of Tit caught this year so far, I am not really complaining. ST/EJ
Garden Ringing, Purton: 25th October 2016
Finding myself at a loose end Tuesday afternoon, due to a problematic software upgrade at my part-time bookkeeping job, I opened the nets in the back garden, hoping I might catch a few Goldfinches, coming in for the sunflower hearts. Pretty quickly I caught a Dunnock. Fifteen minutes later it was a Blue Tit, then 15 minutes after that, the first Goldfinch - and then they started coming: five, then six, then 14. In the space of four hours my little garden delivered up one new and one retrapped Blue Tit; one new Dunnock, one new Greenfinch, one retrapped Collared Dove and 43 new and 2 retrapped Goldfinches. 50 birds in my back garden, lovely. ST
Ravensroost Woods: Saturday, 22nd October 2016
The team had a good little session at Ravensroost Woods on Saturday. I gave them a lie-in: meeting at 7:00, so I had a good size team turn up: Ellie, Jonny, Charlie and his dad, Neil. We caught a reasonable number for a woodland with no winter feeding stations set up yet: 33 new and 20 retrapped birds. During the morning we were joined by a few families walking through. I was asked the perennial question: "Do you catch many of them again?" The usual argument against ringing is that the recovery rate is so low that all we are doing is trapping birds and letting them go again. This is a massive misunderstanding of the reality. In the case of my woodland sites, the recapture rate is better than 30% and, as in this case, sometimes much higher. Even on sites with high migrant throughput recovery rates are better than 10%. When you realise that natural mortality rates for first year birds in Passerines is 70% to 80%, and for adults it is 30% to 40% recovery rates in woodlands are surprisingly high. Taking all of my sites together, recaptures make up 26% of my 2016 catch (this will be diluted as we catch more winter visitors over the next two months); 21% in 2015 and 23% in 2014. Logically, one would expect the proportion to decrease as more new birds are ringed each year and survive.
The list for the day was: Jay 1; Treecreeper 1(1); Blue Tit 3(2); Great Tit 3; Coal Tit 1(1); Wren 1(4); Dunnock 1(1); Robin 2(5); Redwing 3; Blackbird (1); Goldcrest 16(5); Bullfinch 1. Totals: 33 birds ringed from 11 species; 20 retrapped from 8 species, making 53 birds processed from 12 species.
Ellie got the opportunity to process her first Jay, always a valuable lesson - they have sharp claws and strong, sharp beaks and need careful handling. She did it well, with no injury.
One of the retrapped Wrens was originally ringed as an adult in May 2013. By my reckoning that means that this small bird has survived since fledging in, at least, 2011. A five-and-a-half year-old bird, weighing less than 9g on each occasion it has been caught. The longest lived Wren, from ringing data, is 7 years 3 months and 6 days, so it has a while to go yet before becoming a record breaker.
Whilst we were processing the birds we couldn't help but notice several large flocks of small finches flying around the treetops. We never got a good view: I never had my binoculars to hand, Jonny did but they were always in silhouette. Having caught a couple of newly fledged Lesser Redpoll in the meadow in the autumn, we assumed that is what they were but Robin Griffiths tells me that there has been sightings of a couple of flocks of Siskin flying around the wood this autumn. That is pretty unusual for Ravensroost - we get the odd one in February / March time. I will be putting a couple of nyger seed feeders up to see if we can attract them down in time for our ringing demonstration on the 12th November. ST/JC/EJ/CS/NS
Somerford Common: Monday, 17th October 2016
Saturday's scheduled session at Somerford Common had to be postponed because of some unforecast rain. Being around on Monday, with the weather looking better, if a bit windy, I decided to see what was about. I hate to say it, but the most interesting sighting of the whole morning was my first. As I arrived to set my nets, I noticed this large, black (it was dark), almost triangular, shape alongside an oak tree about 20m ahead of my net ride: I had never noticed anything there before. As I looked, I realised it was a Wallaby. One has been reported by a few people but it was still an exciting find. It was clearly not bothered by my presence: it didn't move, even when I started hammering pegs into the ground, for a good 20 minutes.
The ringing was consistent, if not spectacular. Highlights were: a third Redwing for the autumn; a juvenile female Great Spotted Woodpecker; another 18 Goldcrests ringed and one retrapped and, finally, the arrival of some Long-tailed Tits after a very poor showing so far this year. Of course, the bulk of the Titmice arrived as I was closing the nets to pack up for the day, delaying my departure just long enough for me to get caught in the rain. The list was: Great Spotted Woodpecker 1; Blue Tit 5(2); Great Tit 2(1); Coal Tit 1; Marsh Tit (1); Long-tailed Tit 8(6); Wren 4; Robin 5(1); Redwing 1; Song Thrush 1; Blackbird 2(1); Goldcrest 18(1); Bullfinch 1(2). Totals: 49 ringed from 12 species; 15 retrapped from 8 species, making 64 processed from 13 species.
As I was driving home I had to hammer on the brakes to avoid running over a Buzzard. It was sat on the road feeding on some carrion and they really cannot take off fast enough to play that game. ST
Ravensroost Woods: Thursday, 13th October 2016
The original schedule was to carry out a session at Ravensroost on the Wednesday but, with an opportunity to get out with Paul Darby and the team (Michael and Alan) to check and clean out Barn Owl boxes instead, I opted to move the session to Thursday. The Barn Owl session made for an excellent day. We checked on nine boxes: five of them showed positive signs of having had owls breeding in them this year; four of those held roosting pairs of Barn Owls; two had been taken over by Jackdaws; one had a Hornet's nest inside and one showed no signs of being used. Having recently been given my schedule 1 access licence for Barn Owls and their pulli I wanted to make the acquaintance of the landowners and get their buy-in to my team ringing their birds next summer. We met two of them in our rounds, both of whom were extremely enthusiastic about "their" owls and happy for me to have access during the breeding season. A good start: I would not want to presume consent, so very happy about it. As we approached one of the boxes that proved to have held Jackdaws I saw a Little Owl scoot down from the branch above the box and disappear underneath it. It was a super sighting and I hope to get a chance to get closer to it next year.
So to Thursday. Jonny had the good fortune to see a Yellow-browed Warbler yesterday on Morgan's Hill. We know there have been good numbers along the east coast and, with easterly winds blowing over the last few days, several have ended up inland. Unfortunately, none of them have found their way to Ravensroost (yet - always optimistic). With the winds changing to a southerly source for the rest of the week, hopefully they will remain around for a while yet. As it was, we had the benefit of catching our first two Redwing of the year. These are the earliest that I have caught by six days: beating 19th October 2015 at Red Lodge.
Alongside the Redwing we caught a juvenile Marsh Tit; our fifteenth of the year, getting close to our record of 16 in 2014, with two and a half months to go to the end of the year. It shows that there is a degree of stability in the population in the Braydon Forest.
The list for the day was: Treecreeper (1); Blue Tit 5(2); Great Tit 4(1); Coal Tit 4; Marsh Tit 1; Long-tailed Tit 6(5); Robin 1(4); Redwing 2; Song Thrush 1(1); Blackbird 2; Chiffchaff 2; Goldcrest 14(1); Bullfinch 1. Totals: 43 ringed from 12 species; 15 retrapped from 7 species making 58 processed from 13 species.
One of the nicest interludes of the day was meeting a couple of young lads excluded from school and doing volunteer work with the Wildlife Trust. They were fascinated by what we were doing, hugely interested and enthusiastic, and seemed like perfectly nice people. It makes you wonder what they did to warrant exclusion (we didn't ask, that would have been too nosy). ST/JC
Blakehill Farm: Sunday, 9th October 2016
After a couple of weeks away from ringing, I snuck in a short session at Blakehill Farm to see if there were any lingering migrants around. Due to some confusion about exactly where the cattle were roaming on the central plateau, I was confined to the perimeter road hedgerows for the session. It was rather frustrating to see the large flocks of Linnets flying around the plateau and not to be able to set nets for them. Never mind, once the weather breaks, the grass stops growing and it gets stodgy underfoot, we will get the opportunity.
In the event, it was an interesting session. I caught 31 birds in three hours, but could only ring 28 of them. Three of the birds caught were Dunnocks but, unfortunately, they were all suffering with avian pox. If you see birds suffering from an obvious ailment like this, there is web-site where you can log the details. It says it is the Garden Wildlife Health site but, in fact, they are looking for information from wherever it is found. The address is: http://www.gardenwildlifehealth.org/.
It is a collaboration between the BTO; ZSL, RSPB and FrogLife and they are trying to keep a close eye on diseases affecting our wildlife. In return, they will send you detailed information on what you have reported. All three of the affected Dunnocks were juveniles: it is possible they were all from the same brood and that is why there was such a cluster, but that is just my conjecture.
I was joined for a while by Neil Pullen, the reserves manager for the Wiltshire Wildlife Trust, and he was telling me that the hedgerows along the perimeter track are of pretty recent vintage. They are certainly high quality, being primarily a mix of Hawthorn and Blackthorn, and always do well for birds. The reason for the lowish catch on Sunday was twofold: the sun was out and shining on the nets and the wind got up at about 10:00 and, apart from the botheration of having to close the more exposed nets to keep them out of the hedges, made them more obvious than usual.
The list for the session was: Blue Tit 3; Great Tit 4; Wren 1; Dunnock 1; Meadow Pipit 1; Robin 2(1); Blackbird 1; Blackcap 1; Chiffchaff 1; Goldcrest 1; Goldfinch 2; Linnet 1; Reed Bunting 7; Yellowhammer 1. Totals: 27 ringed from 14 species and 1 retrap. Of the farmland species, we regularly catch Linnet, Meadow Pipit and, increasingly it seems, Reed Bunting. However, today's Yellowhammer was a first caught on the site. In fact, it is only the second time I have even seen them at Blakehill, and the first was actually not exactly on site but on the edge of the solar farm in the Chelworth industrial area. The Trust have not cut the central plateau for hay this year: I wonder if the retained seed heads of the plants are what has attracted them in? It would be great to see a growing population of them at Blakehill. There were at least three of them flying around the hedgerow.
As you can tell from the photograph, he is a stunning male. He is a bird of this year, and his tail tells a tale of a struggle to survive, with some dramatic fault bars across it;
With the wind getting up and gusting strongly (not as forecast) I closed the nets at 11:00 and then spent the next three hours carefully extracting them from the hedges. Such is life but no harm done. ST
14th to 18th September 2016: Various
With the weather forecast being a bit variable for this period, rather than going to my farmland sites, I put in a couple of woodland sessions and did a bit in my garden as well.
Wednesday, 14th September: the Firs. I was joined by Andrew Bray for this session. Unfortunately, most of the migrants have long vacated the place: so no repeat of the Spotted Flycatchers from our last session. It was notable, however, for providing a good catch of Great Tit, in what has been a very poor year for them. The list was: Blue Tit 1(1); Great Tit 10(3); Wren 1(1); Robin 7(1); Blackcap 1; Goldcrest 1. Totals: 21 birds ringed from six species; six birds retrapped from four species, making 27 birds processed from six species. One bird, a retrapped Great Tit, was originally ringed as an adult at the private Wood Lane site on the 30th September 2012: only my third ever solo ringing session and making the bird at least 5 years old. It has been caught on six separate occasions, alternating between each site (about 1km apart) until 2013, and subsequently caught only in the Firs.
The weather on Thursday, 15th September: was suitable for farmland ringing, so I arranged to go to Brown's Farm. Unfortunately, my car decided to throw a bit of a wobbler, I had to abandon my plans and was, instead, confined to my garden. Not a lot of diversity, but it is good to see the Goldfinches returning from the fields. The list was: Blue Tit 1; Chiffchaff 1; Greenfinch 1; Goldfinch 23(1). The Chiffchaff was the 648th member of that species I have ringed since I started in January 2009: but the first for my garden. I was inordinately pleased with the catch:
On Saturday I was joined at Red Lodge by Charlie and Neil, plus Steph and her daughter Lilly. Lilly is just six-years old and so interested in the birds and the ringing process, perhaps she will want to take it up, along with her mum. She is so well behaved and walked miles on Saturday without complaint. Steph is proving an invaluable scribe and will be joining as a trainee in the near future. The list for the day was: Treecreeper 1; Blue Tit 6(3); Great Tit 3(2); Coal Tit 1; Wren 2(1); Robin 2(3); Song Thrush 1; Blackbird 1(1); Blackcap 7; Chiffchaff 1; Goldcrest 5. Totals: 30 ringed from 11 species; 10 retrapped from five species, making 40 birds processsed from 11 species. The most interesting bird caught was a recapture of the Blackbird with the deformed upper part to the beak, ringed originally on the 21st August. When caught and ringed it weighed in at 81.6g. Upon recapture it weighed in at 92.2g: an increase in weight of 10.6g in 27 days. Perhaps it will manage to survive, despite its handicap. ST/AB/CS/NS/SB/LB
Information about WOS
Wiltshire Ornithological Society was formed on November 30th, 1974, and has grown in recent years to more than 500 members.
Our mission is to encourage and pursue the study, recording and conservation of birds in Wiltshire
Portraits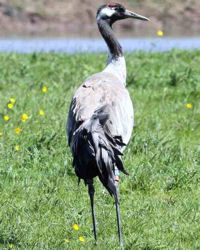 Latest News

In early June, three peregrine chicks were rescued from a nest in Shro...

New Incumbents At the WOS AGM on 5th April, Matt Prior was elected as...