You are here:  

Blakehill Farm: Sunday, 18th June 2017
West Wilts Group
Ravensroost Meadows - Sunday, 11th September 2016
At this time of year I like to get out of the woodlands and onto the farms and meadowlands. Whilst my team doesn't have access to a Salisbury Plain migration mega-site, we do have some nice sites where you can catch good numbers of migrating birds. Blakehill and Brown's Farms and Ravensroost Meadows, and the pond therein, are my favourite sites for this time of year.
In Ravensroost Meadows we usually manage to catch a few Swallows, and last year managed to catch a couple of House Martins as well. With the weather forecast being for a light breeze from the south, gusting stronger as the morning went on, I decided to just set nets that were protected by the high east – west hedges plus short nets across the causeway that bisects the open pond and another along the spit in the eastern half of the pond. I was joined by Jonny Cooper for the session, and what a session it was!
The causeway across the pond is always interesting: it is where we usually manage to catch Swallows as they come to drink or hawk insects. We do catch them in the other nets, but this is the main hirundine net. They arrived quite early on: there must have been over 200 skimming across the meadows and flying in and around the pond. About 8:00 we caught our first two Swallows and three House Martins. By 11:00 we had caught about 35 birds from a variety of species and were hoping we might make it to 40. 20 birds each is a nice size ringing session: little pressure and plenty of time for doing all of the biometrics required. Then, despite the huge flocks of hirundines having moved on, to be replaced by much smaller flocks, things got really quite busy. We seemed to be catching virtually every Swallow and House Martin in the vicinity – not to mention a really excellent number of Chiffchaffs. By the time we finished processing our last birds at 13:30 (a Blue Tit, two Swallows and two House Martins) we had processed 92 birds. This is the largest catch that has ever been taken in Ravensroost Meadows, and the second largest in the Ravensroost complex as a whole (I doubt we will ever surpass the 287 birds of the 4th December 2011 – it comprised a huge number of finches and titmice in large flocks, the like of which has not been seen in the wood since, attracted to a well-stocked feeding station).
Today's catch comprised: Swallow 27; House Martin 16; Blue Tit 5; Great Tit 2; Wren 4(1); Dunnock 5; Robin 2; Blackcap 4; Whitethroat 1; Chiffchaff 20(1); Willow Warbler 1; Goldcrest 1; Chaffinch 1; Reed Bunting 1. Totals 90 birds ringed from 14 species and two retrapped from two species, making 92 birds processed from 14 species.
This was the largest catch of Swallows that my team has had, surpassing the 22 caught at Blakehill Farm on the 20th September last year. It is far and away our largest catch of House Martins: previously we had caught just one on two occasions at Blakehill and five at Ravensroost Meadows last September. The weather was virtually perfect: although the sun came out early on, the cloud cover increased from 11:00 onwards and this coincided with the hirundines hitting the net.
The Causeway Net:
One of the beauties of extracting hirundines is that they have long wings and short legs: which means that they just sit in the pockets in the net and can be lifted straight out very quickly and easily: just a few seconds per bird.
Juvenile House Martin:
All of the hirundines caught were juveniles. It is astonishing that not just their migratory behaviour is innate, but that the routes are hard-wired into their genome. Hence, the parents leave them to make ther own way. Given that the parents have two to three broods per annum, it is not surprising that they are left to fend for themselves but still remarkable. In fact, the only definite adults caught today were one Dunnock plus the Reed Bunting and Willow Warbler.
As well as the birds caught there were flocks of Long-tailed Tit plus several Marsh Tit and Kestrel, Buzzard, Ravens, Jackdaws, Carrion Crows and Magpies in and around the meadows. There were a number of dragonflies flying around: a superb Emperor plus a number of Common Darter, intent on laying yet more eggs before they die off. Of course, it is not just birds that migrate: there were several Red Admirals making their way south - into the breeze. We also saw several Small Tortoiseshell, Large White, Speckled Wood and one Common Blue. With Jonny running over an hour and a half late for his Sunday lunch, we were packed up and away by 14:00. ST/JC
Brown's Farm: Wednesday, 7th September 2016
With Jonny freshly back from Spurn, after adding to his already impressive list of species ringed (Common Tern, Knot, Yellow Wagtail, Redstart, Tree Sparrow, all added last week), we headed to Brown's Farm for a session of catching along their fabulous hedgerows. The weather forecast was for a flat calm start, with the wind picking up later in the morning. Again, the forecast was completely accurate. The catching was very regular until about 10:00, when it fell off considerably but there was still enough going on for us to keep the nets open. We finally packed up at midday.
Noticeable in our catch this morning were a number of Yellowhammer sporting very large, bloated ticks:
This poor female Yellowhammer is clearly suffering from an eye-problem as well as that rather horrible tick just above. One thing I have in my ringing kit is a pair of needle forceps for dealing with these situations. It is very satisfing to remove these parasites and release the bird in better condition than when you caught it.
The list for the day was: Swallow 5: Blue Tit 6(1); Great Tit 2; Wren 2; Dunnock 15(1); Robin 1; Blackcap 4; Whitethroat 3; Chiffchaff 8; Willow Warbler 1; Goldcrest 1; Linnet 1; Bullfinch 4; Yellowhammer 9. Totals: 63 birds ringed from 14 species; two retrapped from two species, making 65 birds processed from 14 species.
One of the Great Tits was sporting a rather deformed beak:
The upper part was normal (it doesn't look it in the photo) but the lower was quite visibly extended. It didn't seem to be doing it any harm: weighing in at a very healthy 20g.
Overall, we had a really good session with a good catch of a wide variety of species. However, it could have been so much better. At about 10:30 a huge flock of Linnets landed in one of the hedgerows adjacent to our nets. We were excitedly waiting for them to respond to the MP3 lure when a number of things happened: a Buzzard flew up the path towards the nets; at the same time, a Kestrel flew along the hedge and had a quick hover, ensuring that everything flew off in widely dispersed directions but, essentially, away from our nets. That was bad enough, but we were mollified by the catching of Swallows. However, the real downer happened at 11;30. We had just taken down one set of nets and were preparing to take down the final set when a small flock of half-a-dozen birds flew over the nets, landed on the path opposite them, then flew up into the top of the hedgerow behind the second set of nets. They were Yellow Wagtails. We have both been lucky enough to ring them elsewhere but not yet in Wiltshire, and not yet on my rings. This time the local Red Kite put in an appearance and they disappeared. We did have some great views of these glorious birds, but what could have been!!! ST/JC
Blakehill Farm: Saturday, 3rd September 2016
With my team for today being pretty inexperienced: Charlie having just started extracting; Neil (Charlie's dad) not (yet) part of the ringing team and Steph coming along for her first taster session, to see whether she would like to have a go at ringing, I decided to put just a few nets up. Also, as the weather forecast was for the wind to start low and gradually increase over the course of the morning, and for rain to set in between 11:00 and 12:00, I didn't want an inexperienced crew trying to get the nets down quickly.
Individual nets were set at three of the isolated bushes that ring the central plateau and three x two net sets were set along the perimeter track. My hope was that the field nets would catch a few Linnets and that the perimeter track nets might catch the Redstart that I have seen there on several occasions recently. I was disappointed in the former aspiration but amply recompensed elsewhere.
Our first couple of birds were two Reed Bunting: a sign of what was to come. Our first round proper delivered half-a-dozen Reed Bunting but also two Whinchat and a juvenile Kestrel. It is only the second Kestrel I have caught since I started ringing independently. I gave it to Charlie to process, which rather made his day.
In the second round we caught another good number of Reed Bunting, but also started catching Swallows and the wished for Redstart. It was a cracking juvenile male.
Plenty of Swallows and Goldfinches were flying around the site and we were lucky enough to catch some of each. The build up of each of these bodes well for some good catches over the next few weeks. The list for the session was: Kestrel 1; Great Spotted Woodpecker 1; Swallow 7; Whinchat 2; Redstart 1; Robin 1; Goldfinch 3; Bullfinch 1; Reed Bunting 19. Unusually, we had no retrapped birds but 36 ringed from nine species. Catching 19 Reed Bunting in a session (all bar two of which were male) is a record for my team. The most we have had before in a single session was nine, also at Blakehill.
We closed the plateau-edge nets and took them down at 10:00, as the wind had got up as forecast, making the nets unusable. The wind just blows straight across the plateau, with little to slow it down We kept the perimeter nets open for another hour, as the hedging is thick and an effective windbreak, and took down as we saw the promised rain front coming closer. The rain hit about 10 minutes after we left site. Timing! A special mention for Steph who took on the scribing duties and did a great job on her first session out with us. It was really helpful and enabled me to focus on working with Charlie on his ageing, sexing and biometrics. As a final aside, both Neil and Steph have asked to join the team as trainees, which is excellent news. ST/CS/NS/SB
CES 12: Lower Moor Farm, Wednesday, 31st August 2016
With CES 11 being such a heavy session, with over 100 birds caught, I decided to enlist help from other members of the West Wilts Ringing Group. Ian Grier and Andy Palmer augmented my team of Ellie Jones and Charlie Stockley (not forgetting his dad, Neil). Although it was a much quieter session than the last, the additional help was invaluable, as I could work with Charlie to continue his training on extracting birds, whilst Ellie, Andy and Ian got on with dealing with the other birds.
The highlight of the session was catching our second Green Woodpecker in eight days. To put it into perspective, as a trainee I was lucky enough to extract two of them (one at Ravensroost, the other at Swindon Sewage Works) but wasn't allowed to ring either of them. Once I got my C-permit I was lucky enough to catch and ring one at my Wood Lane site on my first ever independent ringing session, subsequently I caught another at Lower Moor Farm in April 2014. Having ringed those two, Ellie and Andy drew lots for the privilege and Andy won. It was his first, so he was happy about it. This bird was an adult male, which you can contrast with the previous photo, which was a juvenile male.
During a lull in our ringing activities, Ian noticed some commotion on the far side of Mallard Lake (our ringing station is in the picnic area opposite the lakeside house). We could see water shooting into the air. On looking through the binoculars you could see a large flock of House Martins dive-bombing the water and sending up plumes of water. It was quite remarkable. The water plumes were visible via the naked eye from some 200 metres away, so they must have been throwing up quite a lot of water. Most of us will have seen, or seen film of, Swallows skimming the water to drink or pick off insects; none of us have ever seen anything like this activity with House Martins before.
The list for the session was: Green Woodpecker 1; Treecreeper 1(1); Blue Tit 2; Great Tit (1); Long-tailed Tit 1(2); Wren (1); Robin 5(2); Blackcap 1(5); Garden Warbler 1; Whitethroat 1; Lesser Whitethroat 2; Chiffchaff 8(1); Willow Warbler 3; Goldcrest 1; Chaffinch 1; Greenfinch 1; Bullfinch 1(2). Totals: 29 birds ringed from 15 species; 15 retrapped birds from 8 species, making a total of 44 birds processed from 17 species.
The catch died off after 11:00 and at 11:30 we closed the nets and took them down. ST/IG/EJ/AP/CS/NS
Ravensroost Wood: project session 5: 26th & 29th August 2016
Originally this session was scheduled for Friday and Saturday but I, somewhat fortuitously, didn't feel up to the second session on Saturday and postponed it to Monday. Fortuitously because it started raining at about 9:00 on Saturday and then, soon after lunch, the monsoon arrived bringing the thunder and lightning with it. I could have been caught in that, as the session was scheduled for me to be working solo. Jonny Cooper joined me on Friday and Andrew Bray on Monday, making both sessions very easy to manage.
The list for the sessions was: Nuthatch 5; Treecreeper (1); Blue Tit 2; Great Tit 5(1); Coal Tit 3; Marsh Tit 1(2); Long-tailed Tit 2(1); Wren 5; Dunnock 2(1); Robin 13(7); Song Thrush 1; Blackbird 3(1); Blackcap 6: Chiffchaff 6(2); Goldcrest 1; Bullfinch 1.
Totals: 56 birds ringed from 15 species; 16 birds retrapped from 8 species, making 72 birds processed from 16 species. 47 of the birds processed, from 15 species, were juveniles. All of the Titmice, except for the Blue Tits, had juveniles in the catch. The lack of young Blue Tits continues to be a worrying situation: one not confined to Ravensroost. However, the situation is variable across the country, with eastern counties seeing little difference from previous years, and western counties seeing a significant decline in fledged Blue Tits. Although we have caught a few recently, and a few Long-tailed and Great Tits as well, there has been a definite reduction in breeding success this year.
The highlights of the catch were the Nuthatches. They have been calling and flying around the wood all year – but missing the nets. I don't know why, but this time they seemed to find them. Catching five Nuthatches in the wood, without a feeding station or lure to draw them in, is very unusual.
It was very pleasing to catch another couple of this year's fledged Marsh Tit. The numbers are building up pretty well this year: already comparable with previous years, with the main catching period for them to come over the next four months. They, unlike the Blue Tits and Long-tailed Tits, seem to have had a normal breeding season. ST/JC/AB
Somerford Common: Wednesday, 24th August 2016
After the wild and windy weather of the last few days, I was joined by Jonny, Charlie and his dad, Neil, for a session on Somerford Common. We set our nets along the ride just down from the small carpark, and along the north to south ride at the eastern edge of the fenced off paddock. There is some exciting news about the paddock. After the failure of the Exmoor ponies project, to enhance the site to suit Marsh Fritillary butterflies (the reason for the paddock in the first place), the paddock has just been growing wild and is becoming severely overgrown. As of this autumn, the Forestry Commission are instituting a coppicing regime within the boundaries of the paddock. Hopefully this will lead to there being a continual supply of habitat suitable for Garden Warblers, which seem to have disappeared from the site this year.
After the first round, which included a decent flock of Long-tailed Tits, the session was never too busy, but always interesting, It gave me an opportunity to start Charlie on extracting birds. Nothing too difficult to start with: a number of Robin, Dunnock, Blackcap and Bullfinch; all of which he handled very well. It bodes well for his future as a ringer.
The list for the session was: Green Woodpecker 1; Blue Tit 1; Great Tit 1(3); Coal Tit 1; Marsh Tit 2; Long-tailed Tit 13; Wren 3; Dunnock 2; Robin 6; Song Thrush 1; Blackbird 1; Blackcap 3(1); Chiffchaff 5; Willow Warbler 2; Goldcrest 2; Bullfinch 11. Totals: 55 ringed from 16 species; four retrapped from two species, making 59 birds processed from 16 species.
We seem to be in a run of good catches with interesting birds at the moment. The two new Marsh Tits take this year's total to 13: more than last year, with the busiest time for catching them yet to come. Nine of these are juveniles fledged this year and it confirms breeding Marsh Tits in all four of the major woods of the Braydon Forest (in which I have ringing sites). It was great to finally get a good catch of Long-tailed Tits. They were all close to completing their post-breeding / post-fledging moults, so virtually impossible to positively identify the youngsters from the adults. Given that they stay in family groups it is likely that there were a number of young in the party. Contrast that with the single Blue Tit (an adult) and the four Great Tits, of which the newly ringed bird was the only juvenile.
The last two years have been very good for Bullfinches. Today we caught 11: two adults older than last year's fledging; two from last year's fledging and seven newly fledged birds. This brings the total to 19 new Bullfinches ringed on Somerford Common so far this year, compared to 21 in the whole of 2015 and just four in 2014. With three more sessions scheduled for the site this year, it is likely that we will surpass the 2015 total. This improvement in fortunes is reflected throughout the Braydon Forest.
As luck would have it, our last round produced just a single bird. However, that bird was juvenile Green Woodpecker. Jonny did a brilliant job of sprinting to the net to ensure it didn't escape. It was touch-and-go for a while, as the bird flew along the net, bouncing off it several times before ending up in the shelf. As he did the hard work, I let Jonny ring it: his first ever.
ST/JC/CS/NS
Red Lodge: Sunday, 21st August 2016
With yesterday's atrocious weather causing Blakehill's Festival of Flight to be cancelled, Ellie Jones and I decided we wanted to get some ringing done and, having had to postpone the last session scheduled for there, due to the deer stalking, to have a go at Red Lodge this morning. The rain stopped overnight. It was still very windy but we were able to set out nets in sheltered rides out of the wind. It turned out to be a quality session: satisfying on many fronts.
We caught our third Spotted Flycatcher of the autumn: a first for Ellie to ring and a real highlight. As well as that, we caught a first Garden Warbler for the site; eight Treecreepers (a record for any of my sessions) and pleasing numbers of titmice, including two new and two retrapped Marsh Tits. The full list for the day was: Nuthatch 2; Treecreeper 7(1); Blue Tit 6; Great Tit 7(2); Coal Tit 3; Marsh Tit 2(2); Long-tailed Tit 4(1); Wren 6; Spotted Flycatcher 1; Robin 8: Blackbird 1; Blackcap 3(1); Garden Warbler 1; Chiffchaff 1; Goldcrest 1. Totals: 53 birds ringed from 15 species; seven retrapped from five species, making 60 birds processed from 15 species. We had a slightly higher proportion of adults compared to previous weeks: 15 (25%) of the total. The adults were one each of Wren, Blackcap, Garden Warbler, Chiffchaff and Marsh Tit; two each of Nuthatch, Long-tailed Tit and Treecreeper plus four Great Tit.
The Blackbird was a juvenile undergoing post-fledging moult. It was in decent condition, although slightly underweight (82g). Mind, when you have the deformed bill that this bird has to work with, it is remarkable that it has even got this far:
The Marsh Tits were the fifth and sixth ringed in Red Lodge this year, out of a total of 11 in the Braydon Forest so far. This returns it to just above the level seen here in 2014, after the disruption by the thinning operations in 2015, but with four-and-a-half months of the year left to go.
It was a bit of a relief that we caught reasonable numbers of juvenile Blue, Great and Long-tailed Tits. There are certainly more of them around in Red Lodge than we have been catching in the other parts of the Braydon Forest. Once the flocks form for winter, it will be interesting to see how they compare with previous years. ST/EJ

CES 11: Lower Moor Farm, Wednesday, 17th August 2016
CES11 showed a return to the expected numbers of birds on the site for this time of year, with 106 birds processed. As luck would have it, I had none of my experienced team with me. Charlie Stockley and his dad, Neil, came along but, as it is only his second session as a trainee, I haven't started him on extracting birds yet. Still, we coped and had a very interesting and exciting session.
It started auspiciously: as I was putting up nets in the wildlife area next to the picnic site, on the edge of Mallard Lake, I spooked a large creature which entered the water with all the grace of a television being thrown into a swimming pool by a 1970's "rock star". My first sighting of a Eurasian Beaver. Even if it is only an escape from the Lower Mill Estate, I don't really care: it was a stunner. On my first net round I extracted a Blackbird and, to my surprise, a Brown Long-eared Bat. This is the second bat I have had to extract from my nets: the first was a Pipistrelle, the very first creature I ever extracted from one of my nets, on my first session as a C-permit holder.
When one of the Otters put in an appearance, swimming across Mallard Lake to the pipe leading to the other lakes, it was hard to know how the morning could get any better. Certainly it was a red-letter moment for Neil and Charlie: this was their first sighting of an Otter (Neil was the first to spot it).
On my second net round I extracted a lovely Kingfisher: it was a juvenile female. It was already ringed, but not on one of my rings. I look forward to finding out where it came from: probably somewhere within the Water Park, but nice to find. A little later we came across a beautiful male Greenfinch, with a twist. As you can see from the photograph below, he was sporting a great lump of orange: possibly solidified pollen. When processing the bird I noticed that the ring was upside down and on the left leg: another controlled bird, presumably from somewhere in Gloucestershire (where they do put rings on in counter-intuitive ways).
So, we were extremely pleased with how things were going. We had been extracting decent numbers of Garden Warbler and at about 10:30 I extracted one already sporting a ring. When I had a quick glance at it I noticed it had no initial letter and comprised seven digits: 7748583 and above the number the words "Museum Paris". Fantastic: my first foreign recovery. I can't wait to find out its story. I think Charlie and Neil thought I had gone a bit loopy, as I reacted to the discovery. When processing it, I was surprised to find that it was carrying a large amount of fat, weighing in at 20.1g. I expect to see Blackcaps and Garden Warblers broaching the 20g mark, but in a month's time when the blackberries and elderberries are ripe and my hands are purple.
The list for the session was: Woodpigeon 1; Kingfisher (1); Treecreeper 2(4); Blue Tit 5(1); Great Tit 1(1); Long-tailed Tit 6(3); Dunnock (2); Robin 1(2); Blackbird 8(1); Reed Warbler 1; Sedge Warbler 1; Blackcap 7(4); Garden Warbler 6(1); Whitethroat (1); Lesser Whitethroat 4; Chiffchaff 15(3); Willow Warbler 16; Goldcrest 2; Chaffinch 1; Greenfinch 1(1); Bullfinch 2(1). Totals: 80 ringed from 18 species; 26 retrapped from 14 species, making 106 processed from 21 species. As ever, the birds were predominantly juveniles. The adults were the Woodpigeon, and one each of Blue Tit, Long-tailed Tit, Garden Warbler, Chiffchaff plus two each of the Blackbirds, the Great Tits and the Greenfinches: 11 out of 106 captured.
The numbers are similar to the same session last year but the numbers of Willow Warbler and Blackcap have swapped. It was encouraging to finally get some juvenile Blue and Long-tailed Tits and the continuing capture of Reed and Sedge Warbler this year at Lower Moor Farm continues to be encouraging for their future on the site. ST/CS/NS
Kingfisher update: I heard from John Wells of the Cotswold Water Park Ringing Group. This bird was ringed at Waterhay on June 19th. Thanks for the information, John.
Information about WOS
Wiltshire Ornithological Society was formed on November 30th, 1974, and has grown in recent years to more than 500 members.
Our mission is to encourage and pursue the study, recording and conservation of birds in Wiltshire
Portraits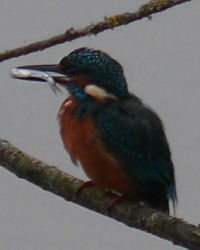 Latest News

In early June, three peregrine chicks were rescued from a nest in Shro...

New Incumbents At the WOS AGM on 5th April, Matt Prior was elected as...