You are here:  

Various: Monday 13th, Wednesday 15th and Thursday 16th March 2017
West Wilts Group
Various: Monday 13th, Wednesday 15th and Thursday 16th March 2017
It has been a bit of a busy week with three sessions. Monday's session was to replace the scheduled meeting at Ravensroost Woods on Sunday. Fortunately Ellie could join me for this session and we had a reasonable catch of 37 birds. The list for the day was: Great Spotted Woodpecker 1(1); Nuthatch 1(1); Blue Tit 3(4); Great Tit 11(2); Coal Tit 1; Long-tailed Tit 1; Wren 1(1); Dunnock (2); Robin (1); Goldcrest (1); Chaffinch 1; Goldfinch 4. Totals: 24 ringed from 9 species; 13 retrapped from 8 species, making 37 birds processed from 12 species.
Wednesday was my monthly Help4Heroes session at Tedworth House. I started late, arriving at 7:00, to find that none of the feeders had been topped up, so I was expecting one of the lighter sessions. Fortunately, I had some feed in the car and topping up the feeders helped improve the catch somewhat. The day turned into a bit of a stunner. Many thanks to Jack Daw for all his help setting up the nets. Okay, I only caught 28 birds but it was an excellent session for three very good reasons: I had a lovely little ringing session with a group of recovering soldiers. It is fascinating to see how they respond to being in close proximity to a tiny bird. Two of them got to hold and release the last two birds of the session. It is interesting to see how they respond when asked if they would like to hold and release a bird. It is like the old jokes on volunteering: watching the majority step back to leave those who are slower to react. The two other reasons were both to be had on my second round of the day. First, I caught my fourth Mistle Thrush on the site, the third to be ringed there. Given how few are caught and ringed each year, this is a remarkably productive site for them. As you may remember from last month's report, there has been an over-wintering Black Redstart at Tedworth House. It has been feeding up on hibernating ladybirds. Approaching the net by the vegetable / herb garden I saw what I initially took to be a Robin in the net but, as I got closer, I saw a distinctive red tail. There is only one over-wintering red-tailed bird in the UK: the Black Redstart. Apologies for the terrible photographs but my camera decided to throw a wobbler and I had to take them on my mobile, which was just about out of charge and couldn't fire the flash. News of the Black Redstart drew quite a crowd coming to see this uncommon bird.
As far as I have managed to find out, this is the fifth one of the species ringed in Wiltshire and the first since 2008. The list for the day was: Nuthatch 1(1); Blue Tit 6(4); Great Tit 2(2); Coal Tit 1(2); Wren 1; Dunnock 1(2); Robin 1; Black Redstart 1; Mistle Thrush 1; Blackbird (1); Chaffinch 1. Totals: 16 ringed from 10 species; 12 retrapped from 6 species, making 28 birds processed from 11 species.
Thursday was a special session, arranged with Rachel Bush from the Wiltshire Wildlife Trust, to work with the Youth Well-Being group. It was a late start with the net set for a 9:30 start. We only caught ten birds but the youngsters had a cracking time with what we caught, From initial consternation and some disgust, they soon got into the session, with lots of sensible questions and enthusiasm for being taught the ageing and sexing of the birds caught. All of the birds were, unusually, new catches. They were: Blue Tit 2; Great Tit 3; Dunnock 1; Chiffchaff 1; Chaffinch 1; Goldfinch 1; Reed Bunting 1. Total 10 birds processed from eight species. To top it all off, I had a gang of willing helpers for the take down, which meant we were done in half the time. After the last time I did one of these sessions I got a new trainee out of it - and I have had an enquiry this time as well. ST/EJ/JD
Information about WOS
Wiltshire Ornithological Society was formed on November 30th, 1974, and has grown in recent years to more than 500 members.
Our mission is to encourage and pursue the study, recording and conservation of birds in Wiltshire
Portraits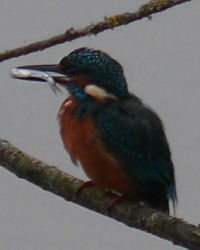 Latest News

CWP Coordinated Gull Roost Count The last coordinated count of gull roosts in the CWP was undertaken in winter 2005/06. In conjunction with the BTO Winter Gull Roost Count in 2003/2004 and a series o...

A new Atlas section has been added to the web site. This shows distribution and abundance maps for most of the birds that can be found in Wiltshire. To access the Atlas, select Atlas from the menu i...