You are here:  

Lower Moor Farm: Saturday, 13th May 2017; CES2
West Wilts Group
Lower Moor Farm: Saturday, 13th May 2017; CES2
Following on from the rather disappointing results in CES1 we were hoping for a better return in CES2. I was joined for the session by Jonny and David. The weather was dull and overcast, usually excellent conditions for ringing but, unfortunately, the breeze got up about 9:00 and affected the later catch. We ended up with one more bird than in the equivalent session last year and the quality of the catch was excellent. The CES requires that we put our nets in the same positions year-on-year, but we are allowed to put up some additional nets to extend the catching area. Their catch just isn't recorded in the CES results. We set up two extra net rides and were delighted that they all caught. The net positions are shown in the photograph below. Those in yellow are the CES rides, white are the extra rides.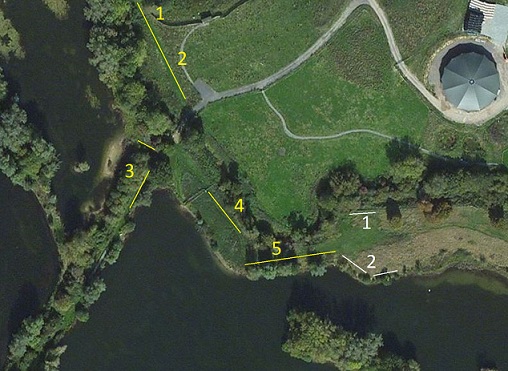 CES ride 3 is our Greenfinch ride: if we catch them, this is where they are usually caught. Today we caught three, all there. There was also a female Bullfinch, which we could not ring, because it was suffering with the Fringilla Papilloma Virus. It is over two years since I last saw this in a Bullfinch. Given that we are catching good numbers of them that are clean in all of our sites, this was a disappointment. Extra ride 2 was empty throughout the session, apart from one retrapped Robin, and then, as we were shutting the nets at the end, prior to take down, I came across two of these beauties in that net ride, within three feet of each other:
To catch one is uncommon, to catch two in one session is remarkable. If it had been a pair that close together in the net it would have been more understandable at this time of year, but they were two adult males. Along with these, we were delighted to catch our first two juvenile Robins of the year and this adult Cetti's Warbler:
After a cracking year for them in 2015, the first time they had been caught and ringed at Lower Moor Farm, when we ringed two adults and four youngsters, 2016 was a severe disappointment, with just one adult and one juvenile ringed in the year. This bird, an adult male, was caught in a different ride (2, as opposed to 3) from the birds of 2015 and 2016. Hopefully we will see a return to 2015 levels this year.
The list from today was: Green Woodpecker 1(1); Treecreeper 1; Blue Tit (4); Great Tit (3); Dunnock (4); Robin 2(1); Blackbird 2(3); Cetti's Warbler 1; Blackcap 1(4); Garden Warbler 1(1); Lesser Whitethroat 2(1); Chiffchaff 1(1); Willow Warbler 1(4); Goldcrest (1); Greenfinch 3; Bullfinch (2); Reed Bunting 2. Totals: 18 birds ringed from 12 species and 30 birds retrapped from 13 species, making 48 birds processed from 17 species. ST/JC/DW
Information about WOS
Wiltshire Ornithological Society was formed on November 30th, 1974, and has grown in recent years to more than 500 members.
Our mission is to encourage and pursue the study, recording and conservation of birds in Wiltshire
Portraits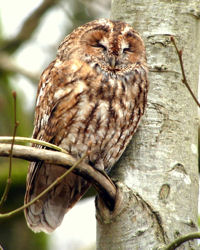 Latest News

CWP Coordinated Gull Roost Count The last coordinated count of gull roosts in the CWP was undertaken in winter 2005/06. In conjunction with the BTO Winter Gull Roost Count in 2003/2004 and a series o...

A new Atlas section has been added to the web site. This shows distribution and abundance maps for most of the birds that can be found in Wiltshire. To access the Atlas, select Atlas from the menu i...