You are here:  

Lower Moor Farm: Friday 14th July 2017, CES 8
West Wilts Group
Lower Moor Farm: Friday 14th July 2017, CES 8
Jonny and I carried out CES 8 on Friday. It was a bit breezy but otherwise the weather was fine: with initial cloud cover, breaking up as the morning wore on with the sun breaking through at about 10:30. The catch was an improvement on last year with 73 birds caught compared with 47 in 2016's equivalent session but well down on the session in 2015 (103 birds caught).
The list for the morning was: Green Woodpecker 1; Treecreeper 1(2); Blue Tit 11(2); Great Tit 3(2); Wren 2(1); Dunnock 2(1); Robin 2; Song Thrush (1); Blackbird 2; Blackcap 7(2); Garden Warbler 2; Chiffchaff 18(1); Willow Warbler 4; Goldcrest 1; Greenfinch 2; Bullfinch (2); Reed Bunting 1. Totals: 59 ringed from 15 species, 14 retrapped from nine species, making 73 birds processed from 17 species.
The star bird of the session was the Green Woodpecker. It was a female, fledged last year, still with a red, veined brood patch: evidence that it was still brooding young. This is our third of the year (one was a retrap), which is already the best total we have had as a team.
Once again the catch was primarily youngsters, including a number of the retrapped birds, with 59 of the 74 being birds fledged this year. All of the Blue and Great Tits, all bar two of the Chiffchaffs and one of the Blackcaps were juveniles, as were three Treecreepers and Willow Warblers, two Wrens, Dunnocks, Robins, Garden Warblers, the Goldcrest and one of the Bullfinches. The continued presence of breeding Willow Warblers is particularly pleasing, as the evidenced northerly move of the UK population is likely to make this a rarer event. ST / JC
Information about WOS
Wiltshire Ornithological Society was formed on November 30th, 1974, and has grown in recent years to more than 500 members.
Our mission is to encourage and pursue the study, recording and conservation of birds in Wiltshire
Portraits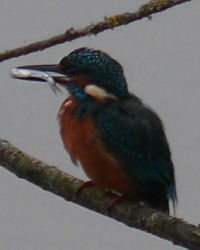 Latest News

CWP Coordinated Gull Roost Count The last coordinated count of gull roosts in the CWP was undertaken in winter 2005/06. In conjunction with the BTO Winter Gull Roost Count in 2003/2004 and a series o...

A new Atlas section has been added to the web site. This shows distribution and abundance maps for most of the birds that can be found in Wiltshire. To access the Atlas, select Atlas from the menu i...