You are here:  

23rd April 2017 - Pewsey Downs
North Wilts Group
23rd April 2017 - Pewsey Downs
Last week I saw a fantastic loose flock of Corn Buntings at one of the sites on the downs right next to a rape crop. With the permission of the farmer I scattered some rape and barley into the tramlines and the flock concentrated into a small area. I didn't expect to catch much but if we could catch a Corn Bunting or two it would be a worthwhile session and up on the downs you never know what could turn up.
The day dawned exactly as forecast, cold and flat calm, perfect for this site. As usual the Corn Buntings largely avoided our nets but we did manage to catch three which is excellent and these birds all have darvic rings to enable us to resight them as we drive through the area during the summer. We were surprised by the number of Tree Sparrows that we caught and they contribute further to the RAS project. Right at the end we were caught that bonus bird, a Skylark so on his first ever farmland bird ringing session Terry ringed Corn Bunting, Skylark, Tree Sparrow and Linnet! MP, GH, TL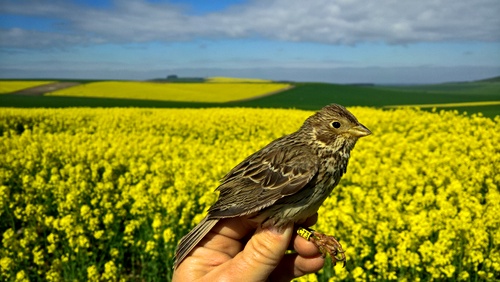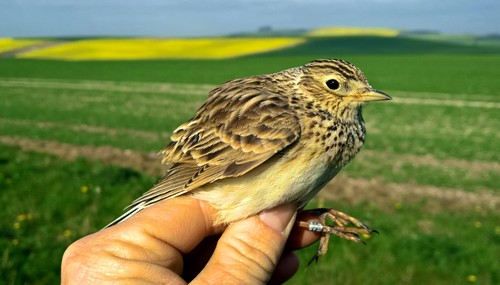 Corn Bunting 3, Skylark 1, Linnet 9, Tree Sparrow 1 (4), Reed Bunting 1
Information about WOS
Wiltshire Ornithological Society was formed on November 30th, 1974, and has grown in recent years to more than 500 members.
Our mission is to encourage and pursue the study, recording and conservation of birds in Wiltshire
Portraits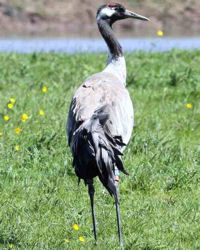 Latest News

CWP Coordinated Gull Roost Count The last coordinated count of gull roosts in the CWP was undertaken in winter 2005/06. In conjunction with the BTO Winter Gull Roost Count in 2003/2004 and a series o...

A new Atlas section has been added to the web site. This shows distribution and abundance maps for most of the birds that can be found in Wiltshire. To access the Atlas, select Atlas from the menu i...