You are here:  

Blakehill Farm: Sunday, 18th June 2017
West Wilts Group
Blakehill Farm: Sunday, 18th June 2017
After a bit of an hiatus with ringing so far this month, with just a session at Tedworth House on the 7th June, notable for ringing my first Blackbird pulli (thanks to the finding and handling skills of the estimable Jack Daw) and then eight days away walking in Scotland, I was delighted to find the weather was fine for ringing at Blakehill. I went for a bit of a recce on Saturday afternoon, only to find the place crawling with birders; including Mike Hamzij, Rob Turner and Jonny Cooper, all looking for the male Red-backed Shrike seen on Friday (and mis-reported as still being present on Saturday). Fortunately, the search had been called off before Sunday dawned. I
had a team of three with me for the session, with nets set in the Whitworth and Butterfly fields, either side of the Whitworth Centre. The team was Jonny, Annie and Steph - with her daughter Lily (to supervise us). The early catch was quite slow, with only seven birds caught between 5:30 and 8:00. Between then and shutting the nets at 11:00, we caught another 40 individuals. We shut the nets at 11:00, because the nets were in full sun and it was so hot we didn't want the birds getting heat stressed whilst awaiting extraction. The team spent rather more time out in the sun, but with good reason, as outlined later.
The catch was a good one. Our first indication that it would be special was when a young Jackdaw blundered into a net. I don't know what was funnier / sadder, me trying to run to get there, with a crocked ankle, before it escaped, or Jonny, who was doing the other set of nets, quite unnecessarily sprinting across the field to find out what it was that we had caught. He got to ring it, for his efforts and enthusiasm.
Thereafter we had a really decent catch, with lots of juvenile birds, primarily from Whitethroat, Robin and Dunnock (3 each), Chiffchaff (5), Blue Tit (9) and Great Tit (7). The Great Tit youngsters were almost certainly from a single brood that had fledged that morning: they were caught in a single catch, in the same two metre stretch of net. The total list for the day was: Jackdaw 1; Blue Tit 9(1); Great Tit 7; Long-tailed Tit 2; Dunnock 4; Robin 3; Blackbird 1; Blackcap 3; Whitethroat 5; Lesser Whitethroat 2; Chiffchaff 5; Willow Warbler 1; Chaffinch 1; Goldfinch 1; Bullfinch 1; House Sparrow 1. 47 birds ringed and one retrapped from 16 species. It seems that every session at the western side of Blakehill throws up one House Sparrow to be ringed.
Once we had closed the nets the five of us went over to the A-shaped owl box to see what might be in residence:
I am delighted to say that we found, and ringed, three Barn Owl chicks. This bird was very well developed. Its siblings were not that far behind, but this one had nearly full grown primary feathers. All three were safely ringed and returned to the box. The team learned a lot from that little excursion: that owlets can projectile poo for several feet (most of it going down Jonny's arm and leg and into his Wellie boot) and that even the smallest have talons that can make a painful hole in a finger or thumb. Despite their injuries, the comments whilst we walked back to the Whitworth Centre seemed to comprise mainly of the word "amazing". Jonny and I then checked the other, old style, box between Pool Ground and Cricklade field. That one was empty, except for signs of a Jackdaw nest.
Jackdaws will nest in the most unlikely of places. In the educational play area of the Whitworth Centre is a bug hotel. It stands just about 5 feet tall and has half-a-dozen compartments. A pair of Jackdaws decided that the top left compartment would be a good place for a nest. They were correct: on a previous recce mission to the Centre, the Trust's well-being team were on-site and they mentioned that the Jackdaw young were still in the nest. As, on subsequent investigation, they were at the perfect age for ringing (flight feathers short to medium) I gave the team an impromptu ringing demonstration and added four Jackdaw pulli to my list. They have subsequently successfully fledged from the bug hotel. It will be interesting to see if they use it again next year.
During the course of the session we were treated to the sound of Curlew calling on a few occasions and then watched them flying around the fields. One seemed to be heading off, strongly, in a Purtonward direction. I know they are attempting to breed in the fields nearby to Purton but do they really travel that far to feed? Red Kite circling over the fields was also a nice sight to see. ST/JC/AH/SB/LB
Lower Moor Farm: Thursday, 1st June 2017, CES4
Andrew Bray and I carried out CES4 at Lower Moor Farm on Thursday. We had a small catch: 37 birds, but compared with 30 for the equivalent session last year. However, both are significantly down on CES4 in 2015, with 63 birds caught. The difference is almost entirely made up of juvenile Long-tailed and Blue Tits (20 v 1 and 3 v 0 respectively).
There wasn't the special catch of a Kingfisher (as we had last year) but we did have a significant catch: a newly-fledged Marsh Tit. Where it came from, I do not know. Certainly Lower Moor Farm is not the sort of habitat one would normally associate with Marsh Tit and, as has been well documented (particularly by Richard Broughton), very few move more than 1km from their place of birth. There is a patch of woodland, but it is a wet wood, which is more usually associated with Willow Tit. Discussing this with the Wildlife Trust, Ellie Jones told me that there have been no records of Marsh Tit on the site, going back to well before the Trust took it over in 2007 (although there was a record of two Willow Tits, but that was back in 1997).
It is certainly my first record for the site, with no previous sightings or even sound of the males in spring. On top of that, we had juveniles of Blackcap, Chiffchaff, Chaffinch, Dunnock, Song Thrush, Great Tit, Long-tailed Tit and Robin in our catch. Hopefully this presages a better year than last, where juvenile birds (apart from Blackbirds) were conspicuous by their absence.
(Apologies for the poor quality of the photographs: my camera seems to be on its last legs.) The list for the session was: Treecreeper 1(1); Great Tit 4; Marsh Tit 1; Long-tailed Tit 1; Wren 1; Dunnock 1(5); Robin 5; Song Thrush 2; Blackbird 1(1); Blackcap 4(3); Lesser Whitethroat 1(2); Chiffchaff 1; Chaffinch 1; Reed Bunting (1). Totals 24 birds ringed from 13 species, 13 birds recaptured from six species, making 37 birds processed from 14 species. ST/AB
As a postscript, I contacted John Callinan, who ringed at Sandpool until 2012, and he actually had small numbers of Marsh Tit caught regularly at the site during the 2,000's up until he gave up the site. We do set our nets in different areas (mine are primarily in Wiltshire, his were primarily in Gloucestershire) but it does seem to underline just how sedentary the species is.
Ravensroost Woods: Sunday, 28th May 2017
Ellie and I did the May coppice project session at Ravensroost this morning. It was an interesting catch: highlights had to be newly-fledged Coal and Marsh Tits:
Also, a retrapped female Willow Warbler with a fully functioning brood patch, indicating breeding on the site, was a good find. We caught two additional Garden Warblers: a male and a female with a brood patch. The male's wings and tail were so pristine that I wondered whether it was a juvenile - but it would have had to have broken all early breeding records to be so. Perhaps it has had an abnormal post-migration moult.
As well as these, we had an enormously long-winged male Blackbird, with a wing length of 143mm: 2mm longer than the recording software was happy with. We recognied it was very long, so the measurement was checked three times. One of the other Blackbirds, LC08587, was ringed as a juvenile on the 27th December 2010, making it a seven year old bird, which is over twice the typical lifespan of a Blackbird (3 years) but less than half the age of the oldest recorded (14 years 9 months and 15 days). Talking of old birds, we also retrapped a Marsh Tit, D056635, only the second Marsh Tit colour-ringed at Ravensroost (by 2 minutes) on the 13th October 2012, making it a minimum of 5 years old, against a typical lifespan of 2 years but, again, half that of the oldest on record (11 years and 3 months).
The list for the day was: Coal Tit 5; Marsh Tit 1(2); Long-tailed Tit (2); Wren 2(1); Dunnock (1); Robin 5(5); Song Thrush 1; Blackbird 4(3); Blackcap 2(5); Garden Warbler 2; Chiffchaff (2); Willow Warbler (1); Bullfinch 3. Totals: 25 birds ringed from nine species, 22 birds retrapped from nine species, making 47 birds processed from 13 species.
The Bullfinches ringed were all males: one female caught had to be released without ringing, as she was showing signs of Fringilla Papilloma Virus. Hopefully all of the other females are on the nest, brooding eggs or nestlings. One of the Blackbirds was showing extreme damage to some of its primary feathers: a bad case of feather mite:
All in all, it was a good session and an interesting catch.
There were several dog walkers on the reserve, all of whom had their dogs on leads. However. one of them clearly took exception to my sign explaining why their dog should be on a lead and what we are doing on the site, as they stole it. Perhaps they loved my purple prose. ST/EJ
Lower Moor Farm: Wednesday, 24th May 2017, CES3
Ellie and I carried out CES 3 at Lower Moor Farm this morning. The weather was initially misty, moist and windless: perfect midge weather, and for the first time this year I had to break out the citrinella. The sun broke through at about 10:00, and rapidly burnt off the mist, and then it became very hot and sunny: at which point the birds decided to take cover in the shade, unlike the mad humans.
It was a nicely rewarding session, with our first juvenile Long-tailed Tit, Chiffchaff and Chaffinch catches of the year. The Chiffchaff is the earliest youngster of that species caught at the site by my team by just under three weeks and the Chaffinch the earliest by five weeks. Long-tailed Tits are early breeders so catching them at this time is expected (earliest catch by a single day - but that is almost certainly just an accident of the timing of the session).
The list for the day was: Treecreeper (1); Blue Tit 1(1); Long-tailed Tit 15(2); Wren (1); Dunnock (4); Robin 2; Song Thrush (1); Cetti's Warbler (1); Reed Warbler 1; Blackcap 6(5); Garden Warbler 1(1); Chiffchaff 3(1); Goldcrest (1); Chaffinch 1; Bullfinch (2). Totals: 30 birds ringed from eight species; 21 birds retrapped 12 species, making 51 birds processed from 15 species. This is a massive improvement on last year's catch of seven birds ringed from five species; 20 birds retrapped from 11 species, 27 birds processed from 13 species. Even allowing for the welcome increase in Long-tailed Tit youngsters, this is a significantly larger catch.
Lovely though it was to catch these juvenile birds, particularly after the poor breeding season last year, my highlight of the morning came when I went to photograph the magnificent stand of Yellow Flag Irises in the corner of Mallard Lake. As I approached the lakeside, to get the angle for the best photo, I heard the characteristic "plop" as a Water Vole swam away and made its escape. It is great to know that they are there, as well as along the stream that provides the border between civilisation and barbarism (Wiltshire and Gloucestershire). ST/EJ
Tedworth House: Thursday, 18th May 2017
Given the torrential rain on Wednesday, I postponed my monthly session at Tedworth to the Thursday. It was the usual smallish catch but we caught our first Starling for the site:
This is the 35th species that we have caught and ringed at the site: putting it level in diversity with the number of species caught at the entire Ravensroost complex; one less than at Lower Moor Farm and two less than at Blakehill. As Tedworth House is very much a work in progress, with a large wildlife pond scheduled for development this autumn and further thinning of the wood to open it up for more productive undergrowth, it will be interesting to see how this continues to develop.
The list for the session was: Great Spotted Woodpecker (1); Jay 1; Blue Tit 1; Great Tit 1(1); Coal Tit (1); Wren 1(1); Dunnock 1(4); Robin 1; Blackbird 1; Blackcap 2; Starling 1. Totals: 10 birds ringed from nine species; eight birds retrapped from five species, making 18 birds processed from 11 species.
I was helped with the set up by Dave Turner and Gemma Clinch from the Wildlife Trust and joined later by Rob Hayden, with whom I ringed the Raven chicks on Good Friday. Talking of which, the chicks are now enormous but still in and around the nest, constantly calling to their parents to feed them. They cannot be long off fledging now: they certainly warrant the use of wide brimmed hats or an umbrella if you are walking anywhere near their cedar tree.
The session started off nicely, with a retrapped Great Spotted Woodpecker, ringed as an adult last year. This was followed by the Starling. Perhaps the best catch of the day was my first juvenile Dunnock of this year: freshly out of the nest. Soon after we caught a female whose brood patch was showing the oedematous folds left after the blood vessels retreat to normal once the young fledge. Finally, we caught a beautifully marked adult male Jay. As ever, we had an audience for the processing of the most attractive bird of the day.
Rob and Gemma helped me take down at the end of the session, for which I am grateful. ST/DT/GC/RH
Lower Moor Farm: Saturday, 13th May 2017; CES2
Following on from the rather disappointing results in CES1 we were hoping for a better return in CES2. I was joined for the session by Jonny and David. The weather was dull and overcast, usually excellent conditions for ringing but, unfortunately, the breeze got up about 9:00 and affected the later catch. We ended up with one more bird than in the equivalent session last year and the quality of the catch was excellent. The CES requires that we put our nets in the same positions year-on-year, but we are allowed to put up some additional nets to extend the catching area. Their catch just isn't recorded in the CES results. We set up two extra net rides and were delighted that they all caught. The net positions are shown in the photograph below. Those in yellow are the CES rides, white are the extra rides.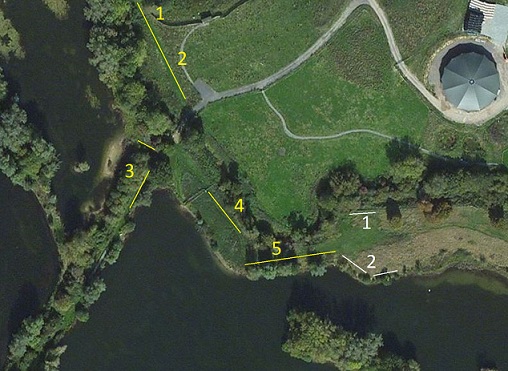 CES ride 3 is our Greenfinch ride: if we catch them, this is where they are usually caught. Today we caught three, all there. There was also a female Bullfinch, which we could not ring, because it was suffering with the Fringilla Papilloma Virus. It is over two years since I last saw this in a Bullfinch. Given that we are catching good numbers of them that are clean in all of our sites, this was a disappointment. Extra ride 2 was empty throughout the session, apart from one retrapped Robin, and then, as we were shutting the nets at the end, prior to take down, I came across two of these beauties in that net ride, within three feet of each other:
To catch one is uncommon, to catch two in one session is remarkable. If it had been a pair that close together in the net it would have been more understandable at this time of year, but they were two adult males. Along with these, we were delighted to catch our first two juvenile Robins of the year and this adult Cetti's Warbler:
After a cracking year for them in 2015, the first time they had been caught and ringed at Lower Moor Farm, when we ringed two adults and four youngsters, 2016 was a severe disappointment, with just one adult and one juvenile ringed in the year. This bird, an adult male, was caught in a different ride (2, as opposed to 3) from the birds of 2015 and 2016. Hopefully we will see a return to 2015 levels this year.
The list from today was: Green Woodpecker 1(1); Treecreeper 1; Blue Tit (4); Great Tit (3); Dunnock (4); Robin 2(1); Blackbird 2(3); Cetti's Warbler 1; Blackcap 1(4); Garden Warbler 1(1); Lesser Whitethroat 2(1); Chiffchaff 1(1); Willow Warbler 1(4); Goldcrest (1); Greenfinch 3; Bullfinch (2); Reed Bunting 2. Totals: 18 birds ringed from 12 species and 30 birds retrapped from 13 species, making 48 birds processed from 17 species. ST/JC/DW
Somerford Common: Wednesday, 10th May 2017
Jonny and I met at the unearthly hour of 4:30 at Somerford Common on Wednesday. We had the nets up and ready for business by just after 5:30 and had a good, productive morning, with nearly 60 birds captured. Every bird, except for a newly fledged Song Thrush, was in breeding condition. It was an interesting catch - with Willow Warbler being the most frequently caught bird (12), followed closely by Blackcap (8) and then Bullfinch (7).
The list for the day was: Jay 1; Great Tit 1; Coal Tit 2; Marsh Tit 1(1); Long-tailed Tit 3(1); Wren 4; Dunnock 1(2); Robin 4(1); Song Thrush 1; Blackbird 1; Blackcap 8; Garden Warbler 1; Chiffchaff 3; Willow Warbler 8(4); Goldcrest (3); Bullfinch 2(5). Totals; 41 birds ringed from 15 species and 17 birds retrapped from seven species, making a totals of 58 birds processed from 16 species. It really is our most varied woodland site. Note the absence of Blue Tit.
It is now approaching five years since I was let off the leash to ring independently of my trainer (and just over two years since I got my full A-permit, so he is no longer responsible for my actions
) and we are catching birds that were ringed in those earlier days. EXR389 is a Willow Warbler that was ringed as an adult of indeterminate age at Somerford Common on the 5th May 2014. That means that this bird has made the trip from the UK to sub-Saharan Africa at least four times. That is a round trip of some 7,500 miles each year, so this 9g bird has travelled at least 30,000 miles in its life, under its own steam. Bullfinch D983496 was ringed as a juvenile at Webb's Wood in August 2014 and recovered as an adult male at Somerford this session. Obviously not as impressive in terms of distance as the Willow Warbler but good to see it surviving and that it has moved a few miles from its birth site to Somerford Common.
Any session where I catch a Marsh Tit is a good session: catching a new bird at this time of year is encouraging and retrapping one of last year's juveniles is doubly so. Jonny's favourite catch of the day was the Jay, a juvenile female:
Ageing Jays at this time of year is based upon two factors: width of the outermost tail feather and the number of black bands on the outermost Greater Covert (ignoring any black tip to the feather). As you can see from the red-ringed feather in the following photograph, this bird has eight black bands, hence a juvenile:
He was pleased to process it, and I was pleased to escape the consequent potential injuries (I have told all of my trainees and helpers that only wimps use gloves for handling Jays or Magpies. They learn very quickly how to process them with the minimum amount of pain.) ST/JC
Red Lodge Plantation: Sunday, 6th May 2017
I did a ringing session at Red Lodge Sunday morning: I was on my own so I only set a few nets but I had a decent catch. The weather was good for ringing at the start of the morning: dull, overcast and windless. The dawn chorus is wonderful at the moment but, although it dies off, there was a continuous background of birdsong all morning. It is the best time of the year.
The list for the day was: Great Spotted Woodpecker 1; Treecreeper 2: Blue Tit 1(1); Great Tit (2); Coal Tit 1; Long-tailed Tit 1(2); Wren (1); Robin 2(4); Blackbird 3(3); Blackcap 5; Chiffchaff 3(3); Willow Warbler 1; Goldcrest 1. Totals: 21 birds ringed from 11 species plus 16 birds retrapped from seven species, making 37 birds processed from 13 species.
It was an interesting session: three of the five Blackcap were female. All were showing preparation for breeding but one had only just started to develop a brood patch, another had completed the defeathering process and the third was showing the venation associated with brooding eggs and young. There was a similar spread of stages throughout all of the female birds caught. Perhaps the best of the catch was the pair of Treecreepers. I am saying "pair" because they were a male and a female caught in the same net, 18" apart, at the same time, both in breeding condition.
Although I didn't catch any today, there were at least four singing male Marsh Tits in the bottom end of the wood, which bodes well for later in the season.
The pond was playing host to Mallard, Canada Geese and an unexpected Grey Heron. A Buzzard spent most of the morning flying around the tree tops calling. For quite a long part of the morning it was being bothered by a Raven - which was quite fun to watch and hear. At one point I did think I was going to have my pond nets destroyed by the Canada Geese, as they decided to fly off to wherever they felt like going for fifteen minutes before returning. They didn't look like they were going to get up enough height fast enough to miss them on the way out and just about managed to miss them on the way back in. Nerve wracking regardless. The Buzzard also did a quick flyover the top of one of the nets (it didn't bother the Canada Geese, interestingly): I would sacrifice a net to catch an adult Buzzard.
Although they are past their best now, there is still a lovely display of flowers in the wood. The Bluebell carpet is extensive in the thinned areas. I cannot remember seeing Cowslip in there before: but there are plenty of them this year. There has definitely been a change for the better in this wood since the thinning operations of 2015. ST
Information about WOS
Wiltshire Ornithological Society was formed on November 30th, 1974, and has grown in recent years to more than 500 members.
Our mission is to encourage and pursue the study, recording and conservation of birds in Wiltshire
Portraits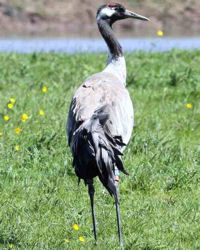 Latest News

In early June, three peregrine chicks were rescued from a nest in Shro...

New Incumbents At the WOS AGM on 5th April, Matt Prior was elected as...