North Wilts Group
15th July - Tree Sparrow RAS
My ringing calendar was starting to get a bit jammed up with CES due and also Tree Sparrow RAS catches urgently needed so we decided to split the team to cover both options.
Gary joined me at the Tree Sparrow site which consists of feeders by a pond on the downs. The Tree Sparrows always provide such interesting information, today we ringed 22 and retrapped 22, it seems that despite the more nest boxes we put up, the split of unringed v ringed in our catches stays the same. We caught 36 juvenile Tree Sparrows, again with an exact 50/50 split of ringed v unringed. We caught a total of ten adults for the RAS project, of these, one was originally ringed 5km away last year.
The most interesting Tree Sparrows were four juveniles that we ringed as nestlings at an organic farm 2km away. This is a new site for us and it has opened up our eyes to organic farming because the breeding results have not been very good there and then to have four of the nestlings immediately disperse away tells me that organic farming may not always be beneficial to farmland birds.
Surprise of the day was the Garden Warbler that we caught as it flew through an area of stinging nettles, I don't think that I have ever seen one on the downs before. MP, GH
Tree Sparrow 22 (22), House Sparrow 16, Greenfinch 2, Chaffinch 2, Goldfinch 3, Blackcap 4, Garden Warbler 1, Whitethroat 1, Chiffchaff 1, Swallow 1, Dunnock 5, Wren 1 (1), Blackbird 5, Great Tit 15, Blue Tit 3, Jackdaw 1
Information about WOS
Wiltshire Ornithological Society was formed on November 30th, 1974, and has grown in recent years to more than 500 members.
Our mission is to encourage and pursue the study, recording and conservation of birds in Wiltshire
Portraits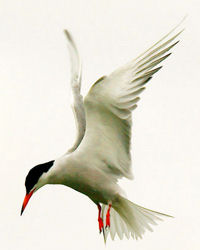 Latest News

A new Atlas section has been added to the web site. This shows distrib...

The two peregrine chicks being raised on Salisbury Cathedral have fled...