You are here:  

Tedworth House: Wednesday, 15th February 2017
West Wilts Group
The Firs, 10th March 2013
The ringing session at the Firs WWT reserve on the 10th March 2013 was the first since the Wildlife Trust installed two new ponds in the central ride. As expected at this time of year the vicinity of the feeding station provided most of the birds but the net by the new ponds delivered 40% of the birds caught.
New birds ringed
3 x Treecreeper; 7 x Blue Tit; 2 x Great Tit; 6 x Coal Tit; 5 x Long-tailed Tit; 1 x Goldcrest; 6 x Chaffinch; 1 x Siskin Total: 31 new birds ringed

Retrapped birds: 1 x Nuthatch; 2 x Robin; 2 x Blue Tit; 5 x Great Tit;1 x Coal Tit; Total: 11 birds retrapped
Total: 42 birds processed.
Also seen or heard at the site were: Green Woodpecker; Great Spotted Woodpecker; Blackbird; Fieldfare; Jackdaw and Buzzard. This was the best catch at this location and indicates that the work the Trust is doing is already making it more attractive to birds. ST
Ringing Demonstration 23/02/13
On a very cold morning on the 23rd February Rob Turner, Ian Grier and Simon Tucker held a ringing demonstration in Ravensroost Woods on behalf of the Swindon Wildlife Group. A total of 16 adults and 6 children, aged 8 to 80, got first hand experience of what the ringing process involves: from extraction to taking biometric data and ringing the birds, plus some of the criteria for ageing and sexing some of our commoner birds. Highlights for the group included getting some close up photos of birds in the hand - particularly the Great Spotted Woodpecker and Nuthatch. The reaction was very enthusiastic and we will be running the event again in early August. It will be advertised on the Wiltshire Wildlife Trust web-site if anybody is interested in coming along.
The bird list from the day was:
New birds ringed:
1 x Great Spotted Woodpecker
2 x Robin
10 x Great Tit
29 x Blue Tit
1 x Coal Tit
2 x Chaffinch
Total birds ringed: 45

Retrapped birds:
1 x Nuthatch
3 x Blackbird
1 x Robin
6 x Great Tit
18 x Blue Tit
4 x Coal Tit
Total birds retrapped: 33
Total birds processed: 78 ST
Information about WOS
Wiltshire Ornithological Society was formed on November 30th, 1974, and has grown in recent years to more than 500 members.
Our mission is to encourage and pursue the study, recording and conservation of birds in Wiltshire
Portraits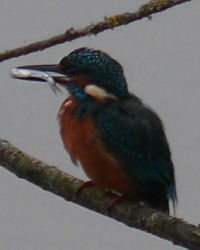 Latest News

A new Atlas section has been added to the web site. This shows distrib...

The two peregrine chicks being raised on Salisbury Cathedral have fled...