17th August 2018 - Salisbury Plain CES session 11
After a coupe of bonus non-CEs session where the catches had been very low, just over or just under 100 birds we were hoping that that the second half of August was going to offer more than the first half.
With all the nets up before sun-up it soon became apparent that there were a few more birds around than there had been with Blackcap calls coming from bushes and Sedge Warbler flitting through the grass. The first net round saw us catch a good few Sedge Warblers along with a few Whinchats from the bottom of the valley. Of the Sedge Warblers, two were already ringed, one with a BTO ring and the other wearing a Paris ringing scheme ring, our second foreign ringed bird of the month.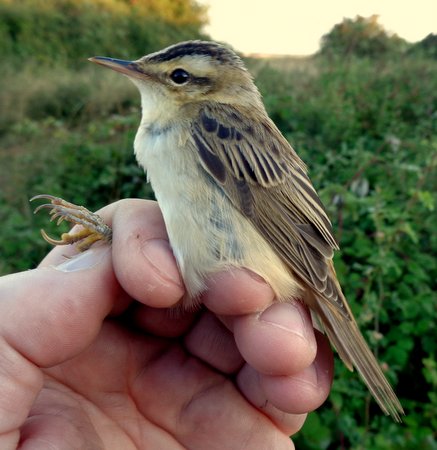 Quite a few Tree Pipits had been migrating over once the sun had started to warm things up and by the end of the morning we had managed to ring 3 of them along with a Grasshopper Warbler and a Redstart and a couple more Whinchats.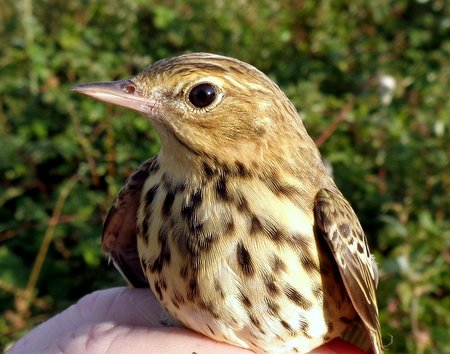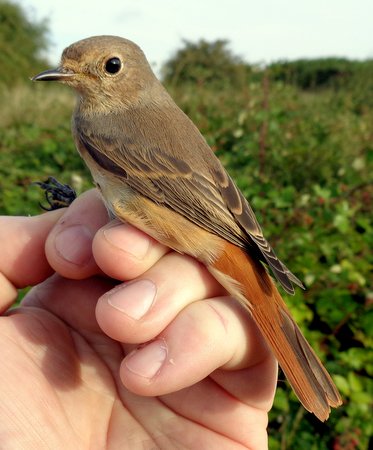 As the morning went on we started to catch more and more Whitethroats which turned out to be the most ringed species by the end of the day. By the time we reached the last few nets of the last net round we managed to catch a Lesser Whitethroat and so got a full house of all the common warbler species.
As we left the site we flushed a Nightjar from close to where one of the nets had been.
The morning ended on 143 new, 13 retraps, an increase on recent sessions but still below average for the time of year.
Tree Pipit 3, Meadow Pipit 2, Wren 1, Dunnock 2(1), Robin 3(1), Redstart 1, Whinchat 6, Blackbird 2(1), Grasshopper Warbler 1, Sedge Warbler 34(2), Reed Warbler 5, Lesser Whitethroat 1, Whitethroat 37(2), Garden Warbler 7(4), Blackcap 28(2), Chiffchaff 2, Willow Warbler 4, Goldfinch 2, Yellowhammer 2