North Wilts Group
4th July 2018 - Salisbury Plain CES session 6
Another very hot day in a long period of hot dry days has meant that the military artillary ranges have had a few large fires recently and again there were a few going on this morning about 1 mile from our location with the smoke blowing over us later in the morning as the wind shifted. We can only hope that the fires burn themselves out before they get to the ringing site which is a valuable area of hawthorn scrub habitat on otherwise chalk downland.
We put up the nets at the bottom of 'Chat Valley' for the first time this summer in our usual place in front of the only only hawthorn tree in the valley with an addiotnal cunning 3-shelf net as an extensionn through the long grass which next month we hope will catch many migrating Sedge Warblers that we would otherwise miss. The net lived up to its name throughout the morning and caught us our first 3 Whinchat of the year, a male and female with one of their fledglings, and a juvenile Grasshopper Warbler.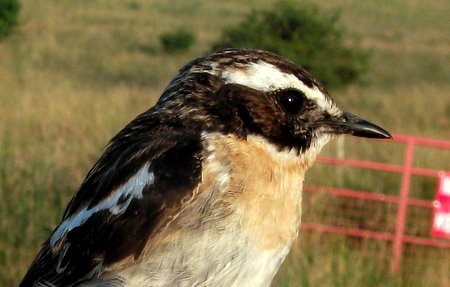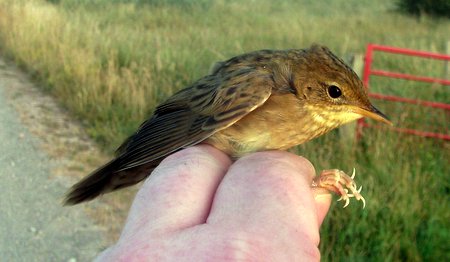 Whitethroat and Willow Warbler numbers picked up after very low numners on site this year with double figures of both being ringed along with good numbers of 3J Blackcap's and Garden Warbler's.
We then caught our first Redstart of the summer, a bird fledged this year which may have been from one of the few pairs that breed locally on Sailsbury Plain. We also caught a very freshly fledged Pipit that casued some debate as it looked odd and as its biometrics were somewhere between Meadow and Tree, but based on a general plumage went down as Meadow in the end.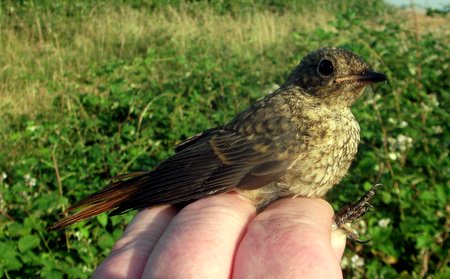 It was quite a profitable morning with 83 new birds ringed and 19 retraps but taking down the nets in roasting +30c scorching temperatures was extremely unpleasant.
Wood Pigeon 1, Meadow Pipit 1, Wren 3, Dunnock 2(3), Robin 1(2), Redstart 1, Whinchat 3, Blackbird 1(1), Song Thrush 3, Grasshopper Warbler 1, Lesser Whitethroat 1, Whitethroat 13(5), Garden Warbler 10(2), Blackcap 21(4), Willow Warbler 10(1), Chiffchaff 4, Goldcrest 1, Blue Tit 1, Great Tit 2, Goldfinch 2, Linnet (1), Yellowhammer 1