North Wilts Group
9th July - Moulden Hill, Swindon
With the really good breeding season for Reed Warblers in the canal we were hoping that this session would give us lots of information about the Reed Warbler population along the canal, and so it proved. We ringed 20 new Reed Warblers of which 18 were adults and 2 were juveniles. The retraps included three of this years fledged nestlings, one ringed as a nestling last year, two ringed as nestlings in 2015 and one from 2014. We also had one that was ringed as a juvenile at nearby Swindon STW last July. These data show how important the site is for Reed Warblers and just how site faithful they are.
Once again we simply put a long line of nets adjacent to the towpath and the reeds to target the Reed Warblers.
I was joined by Gary, Jodie and Biff but we were also joined by two ladies who had seen me ringing the nestlings in the week and were keen to come and see us ringing the adults.
The day total of 134 really was superb and it was capped off with a lovely fresh juvenile Redstart that really cannot have nested that far away as it was so young. MP, AM, GH, JH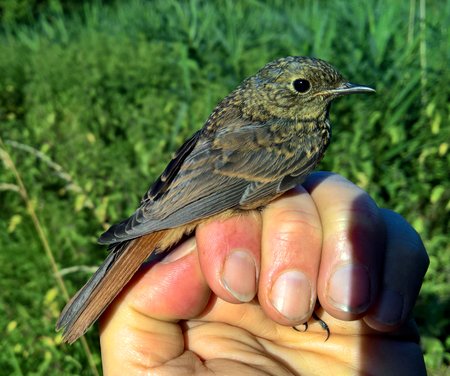 Reed Warbler 20 (12), Sedge Warbler 5 (1), Blackcap 8, Whitethroat 7 (1), Chiffchaff 11, Willow Warbler 2, Goldcrest 1, Dunnock 8 (2), Wren 11 (1), Robin 4, Redstart 1, Blackbird 4, Song Thrush 3, Blue Tit 17, Great Tit 5, Long Tailed Tit 5, Treecreeper 1, Bullfinch 3 (1)
June Nest Recording Summary
June is always a really busy time for us as Tree Sparrows have all three broods active and with by far the highest number of pairs we have ever had it is no wonder that we ringed 664 nestlings during the month. The Cuckoos along the canal fared quite well with four eggs laid but only two hatched but they both survived, were ringed and fledged successfully. The Reed Warblers did not suffer much at the success of the Cuckoos because we ringed an impressive 48 Reed Warbler nestlings in June.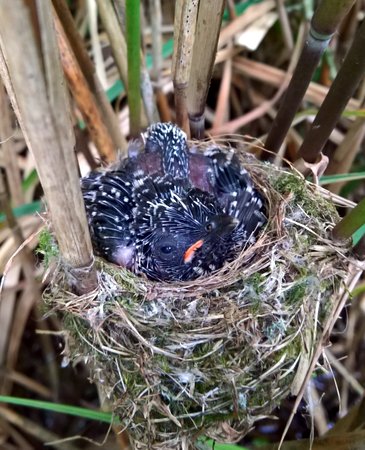 The undoubted June highlight was when I took a call from a farmer informing me of the presence of a Tawny Owl chick that he had seen sat low in a tree. I had reached the end of a long night ringing Tree Sparrows and it was just getting dusk and I almost decided not to bother to follow up on the call but I thought that seeing as the chap had taken the effort, I ought to put myself out. I arrived at the location and heard a call that I had not heard before, I then heard the adult owl flying in to feed the youngster. I got the ladder and climbed to the treetops and as I suspected it was indeed a lovely juvenile Long Eared Owl proving breeding which is the first locally that I have witnessed.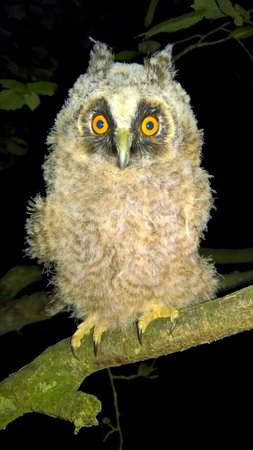 As we tour the downs we come across nest recording opportunities and we ringed the following nestlings throughout the month with the 9 Spotted Flycatchers being a particular success.
Tree Sparrow 664, Swallow 52, Pied Wagtail 8, Barn Owl 16, Little Owl 6, Kestrel 9, Stock Dove 1, Reed Warbler 48, Spotted Flycatcher 9
2nd July 2017 = Swindon STW CES
We had a good team out today, including Jodie back from University. The Reed Warbler retraps included four ringed as nestlings on site and one originally ringed in 2014.
62 birds processed is okay for a spring catch but it is actually 22% down on the corresponding catch last year. MP, PW, GH, JH, TL
Reed Warbler 4 (5), Sedge Warbler 0 (1), Blackcap 13, Whitethroat 5 (1), Garden Warbler 1, Chiffchaff 5, Goldcrest 1, Great Tit 4, Dunnock 5 (2), Wren 6, Robin 5, Song Thrush 1, Blackbird 0 (1), Bullfinch 1, Goldfinch 1
1sy July - Purton Wood
With the team yet again severely depleted it was up to new trainee Terry and I to do this session at Purton Wood. Fortunately, we were joined by my brother so we get an experienced extractor plus a scribe for free. We were then joined by my sister in law and niece who came to see the birds. This site is quite busy with dog walkers and it always means that the locals get a free, drop in ringing demo and we were kept busy not only ringing the birds but talking about them with the locals.
This site has the densest population of breeding birds of our sites and todays results showed this with good numbers of Blackcap, Whitethroat, Chiffchaff and Willow Warbler being ringed.
I saw a Barn Owl at dawn and so I checked the owl box out but sadly there were no signs of occupancy. I then made a good effort of clearing overhanging branches away from the vicinity of the front of the box to make it more attractive to owls in the future.
91 birds ringed is pretty impressive for a spring catch but the really strange thing is that we only retrapped three birds. MP, TL, AP
Blackcap 11 (1), Whitethroat 6, Lesser Whitethroat 1, Chiffchaff 13, Willow Warbler 4, Treecreeper 1, Robin 8 (1), Dunnock 4, Wren 5, Blue Tit 18, Great Tit 8, Long Tailed Tit 4 (1), Goldfinch 1, Bullfinch 6, Chaffinch 1
18th June 2017 - Mouldon Hill, Swindon
This session was aimed at trying to catch adult Reed Warblers and with a flat calm, sunny morning it was just perfect. I monitor the nests along the canal and this year we have over 40 nesting attempts by Reed Warbler including four where Cuckoos have laid eggs. The canal is the best site in Swindon to see Cuckoo and the only site in the borough where they have been proven to breed.
We caught ten Reed Warblers during the morning of which four were retraps, one of them was ringed in June 213 as a breeding male and the other was ringed as a nestling in June 2015 both birds showing great site fidelity.
In spring, Cuckoos are an ever present sight and sound at this site. I watched the male the day before and based on my observations I set a net specifically for Cuckoo and placed a decoy behind the net and put a call on to lure our male down. The Cuckoo came down immediately and after two passes, he went into the net. Noah really didn't expect to be ringing such a magnificent bird this morning!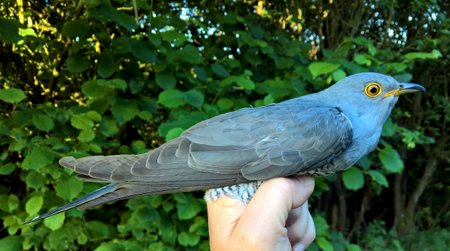 We had set the nets along the canal towpath today to specifically target the Reed Warblers and although the diversity and number of birds was slightly down it was worth it to enable us to focus on the Reed Warblers and also the Cuckoo. We have a very good relationship with the local people here but we were still wondering how they would react walking alongside our nets. We were pleasantly surprised as everyone read the signs and we had lots of interesting conversations and it really feels like we are able to educate people a little about the birds and other wildlife that use the site. MP, NW, TL
Cuckoo 1, Reed Warbler 6 (4), Sedge Warbler 2 (2), Blackcap 8, Whitethroat 2, Chiffchaff 5 (1), Willow Warbler 0 (1), Great Tit 4, Blue Tit 10, Long Tailed Tit 1, Robin 9, Blackbird 4, Song Thrush 1 (1), Goldcrest 1, Wren 1, Dunnock 4 (1), Goldfinch 1, Bullfinch 1, Magpie 1
17th June 2017 - Swindon STW CES
Once again we had a very small team out today and so once again we could not put up any extra nets which for me is a real shame as we lose the monitoring of the birds outside of the CES area, particularly the old Reed Warblers that nest around the bund area.
Juvenile birds are starting to disperse and there was a welcome increase in the number of Blue and Great Tits. Highlight of the day was a juvenile Coal Tit which is only the third ringed on site and Terry was the fortunate fellow to ring it, we ring lots at other sites but it is a really notable record for our 'home site'.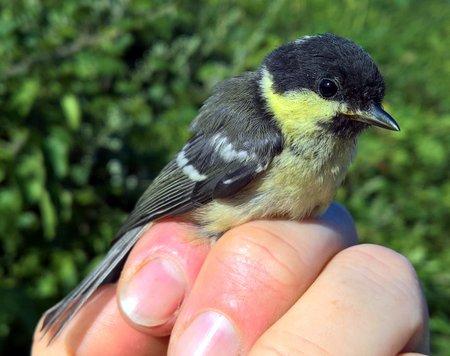 Treecreeper and Kingfisher were other highlights for us as we do not ring many of them on site. I love retrapping the Reed Warblers because they show such great site fidelity and for a warbler they show great longevity, today we retrapped three from 2015 and two from 2014. MP, PW, TL
Kingfisher 1, Treecreeper 1, Blackcap 19 (1), Garden Warbler 1, Whitethroat 1 (3), Chiffchaff 10, Reed Warbler 1 (7), Sedge Warbler 0 (2), Goldcrest 1, Robin 2, Wren 1, Great Tit 9, Blue Tit 4, Coal Tit 1, Dunnock 3 (4), Greenfinch 2, Bullfinch 1
3rd June 2017 - Swindon STW CES
We are a bit depleted team-wise at the moment with Noah and Biff not able to come ringing at the moment due to exams. So it was left to Simon, Gary and me to complete this CES visit. This is my least favourite time of the year because we are tied to putting up the same CES nets, catches are small and we have to get up earlier than at any other time of the year. The bonus is that we do catch decent retraps from previous years and of course the CES data is of very high value.
The small team also means that we cannot put any extra nets up which restricts our monitoring of the other areas of the site which I personally find quite frustrating because there will be old retraps out there that we are not recording.
This session was fairly unremarkable except for three Cuckoos that we teasing us all morning as they chased each other around over the top of the nets. The best retrap was a Sedge Warbler originally ringed in 2014.
The morning total of 56 birds processed is again pretty disappointing and it looks like the weather in May has took its toll on local breeding success as this session is 25% down on the corresponding session last year. MP, SW, GH
Reed Warbler 2 (4), Sedge Warbler 2 (1), Blackcap 3, Garden Warbler 0 (1), Whitethroat 3, Lesser Whitethroat 1, Chiffchaff 1 (1), Blue Tit 8, Great Tit 7 (1), Long Tailed Tit 2 (1), Wren 0 (1), Dunnock 2 (3), Robin 2 (1), Blackbird 1 (1), Song Thrush 0 (1), Bullfinch 2 (1), Reed Bunting 1 (2)
May 2017 - Nest Recording
Nest recording forms a major part of our work during the summer, obviously mainly focused on Tree Sparrows and we ringed 390 nestlings during the month. Occasionally we get Wrens nesting in our boxes, as open nests it is not possible to safely access most Wren nests but in boxes it is perfectly safe so we ringed two broods totalling 12 birds.
We also have some nest boxes on the Savernake estate mainly targeting the extremely scarce and local Willow Tit. In May we ringed a brood of 9 Willow Tits, two broods of Coal Tit totalling 17 nestlings, a brood of 7 Nuthatches.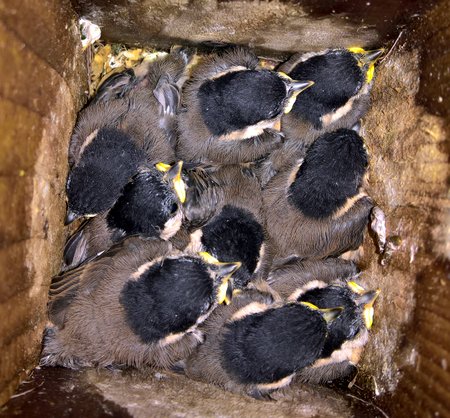 The Reed Warbler nest monitoring in the reed bed at Mouldon Hill Canal is going very well with 19 active nests and 4 nests with Cuckoo eggs in.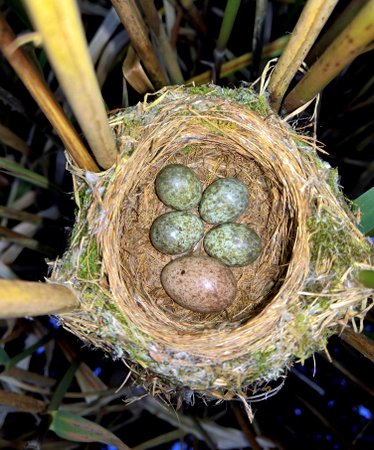 The Mistle Thrushes in the wall successfully fledged 2 chicks which is a particularly noteworthy event because these are the first Mistle Thrush nestlings that we have ringed in 9 years. It isn't that they are scarce it's just that they do not nest where we go on our rounds of the downs.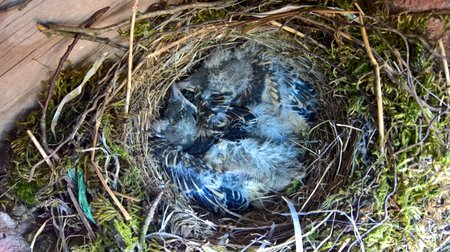 Owls are nesting early and sadly two of our Tawny Owl pairs failed but we did manage to ring one successful brood of 2 and we ringed a brood of 4 Little Owls. MP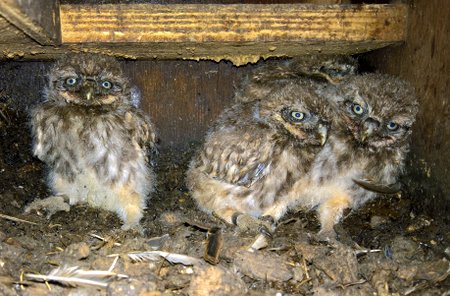 Information about WOS
Wiltshire Ornithological Society was formed on November 30th, 1974, and has grown in recent years to more than 500 members.
Our mission is to encourage and pursue the study, recording and conservation of birds in Wiltshire
Portraits
Latest News

CWP Coordinated Gull Roost Count The last coordinated count of gull roosts in the CWP was undertaken in winter 2005/06. In conjunction with the BTO Winter Gull Roost Count in 2003/2004 and a series o...

A new Atlas section has been added to the web site. This shows distribution and abundance maps for most of the birds that can be found in Wiltshire. To access the Atlas, select Atlas from the menu i...