18th June 2017 - Mouldon Hill, Swindon
This session was aimed at trying to catch adult Reed Warblers and with a flat calm, sunny morning it was just perfect. I monitor the nests along the canal and this year we have over 40 nesting attempts by Reed Warbler including four where Cuckoos have laid eggs. The canal is the best site in Swindon to see Cuckoo and the only site in the borough where they have been proven to breed.
We caught ten Reed Warblers during the morning of which four were retraps, one of them was ringed in June 213 as a breeding male and the other was ringed as a nestling in June 2015 both birds showing great site fidelity.
In spring, Cuckoos are an ever present sight and sound at this site. I watched the male the day before and based on my observations I set a net specifically for Cuckoo and placed a decoy behind the net and put a call on to lure our male down. The Cuckoo came down immediately and after two passes, he went into the net. Noah really didn't expect to be ringing such a magnificent bird this morning!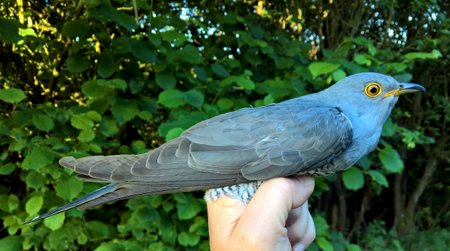 We had set the nets along the canal towpath today to specifically target the Reed Warblers and although the diversity and number of birds was slightly down it was worth it to enable us to focus on the Reed Warblers and also the Cuckoo. We have a very good relationship with the local people here but we were still wondering how they would react walking alongside our nets. We were pleasantly surprised as everyone read the signs and we had lots of interesting conversations and it really feels like we are able to educate people a little about the birds and other wildlife that use the site. MP, NW, TL
Cuckoo 1, Reed Warbler 6 (4), Sedge Warbler 2 (2), Blackcap 8, Whitethroat 2, Chiffchaff 5 (1), Willow Warbler 0 (1), Great Tit 4, Blue Tit 10, Long Tailed Tit 1, Robin 9, Blackbird 4, Song Thrush 1 (1), Goldcrest 1, Wren 1, Dunnock 4 (1), Goldfinch 1, Bullfinch 1, Magpie 1