North Wilts Group
3rd December 2016 - Savernake
We put a good team together for this session as it is the last session of the winter for this wonderful woodland site. As it had been a cold week we didn't try for Goldcrest until mid morning but when we did so, we still ringed 17 and processed a control which is a bird ringed elsewhere.
The speciality bird of this site is Willow Tit and I have been monitoring them in this woodland since 2001. It is one of the last sites in Wiltshire and indeed in southern England where they persist. We have been worried that large-scale clear felling has affected the Willow Tits but through the morning we caught a decent number. We ringed four, retrapped three from the last session and also retrapped two that were ringed as nestlings, one from the same site two years ago and one from 2km away from this year. We know that there was at least one other Willow Tit present so the population in the wood is a minimum of ten. The photo shows a nice comparison of a Willow Tit and a Marsh Tit together.
This site is our best site for Coal Tit and we ringed plenty of them but their numbers have declined in the wood by over 70% in the past few years, we processed one Coal Tit that was ringed as an adult 3km south in November 2014, it seems most strange that an adult should roam such a way. We ringed a steady stream of woodland birds and though we were busy we still had time to cook ourselves up some bacon sandwiches.
Crossbills once again flew overhead and there were a few Siskins around and we managed to ring three of them. 146 new and 24 retraps made for an excellent session but if we had caught nothing other than the Willow Tits it still would have been a red letter day. MP, NW, AM, PW, GH, AP
Willow Tit 5 (4), Marsh Tit 4 (2), Coal Tit 27 (10), Blue Tit 22 (1), Great Tit 11 (2), Goldcrest 17 (1), Treecreeper 1, Nuthatch 2, Chaffinch 24, Siskin 3, Bullfinch 6 (1), Robin 11 (3), Dunnock 2 (3), Wren 4, Jay 2 ,Great Spotted Woodpecker 4 (1), Blackbird 1
5th November 2016 - Kennet Valley
We were back at our Willow Tit woodland and so we once again had a terrific turn out from the team and we were joined by Nigel Pleass who rings at the Cotswold Water Park.
We set nets at four feeding stations and also played sound lures to attract crests and also a bonus Redwing set at this site that really isn't a Redwing site. As we finished setting, we were excited with our prospects as we could hear Bramblings calling but sadly they didn't grace our nets. Crossbills once again flew overhead without coming anywhere near our nets. Goldcrests again dominated the catch but once again they weren't joined by anything unusual.
Tits and finches were around in reasonable numbers and the number of Long Tailed Tits were particularly noteworthy. We have been catching good numbers of Long Tailed Tits recently and we have just passed ringing a hundred for the year which makes it the second best year for them and we still have seven weeks to go so it could end up as a record year for them yet. This is remarkable when one considers that 2015 was amongst the worst years that we have ever had for them.
This site is unique in that we get the opportunity to compare Marsh Tits and Willow Tits in the hand and today didn't disappoint and this really is great for the team to be able to examine both species. The undoubted highlight of the morning was a retrap Willow Tit, especially when the ring number was read out to me. This bird was ringed as a nestling in a nest box that I put up especially for Willow Tits 2km away. This was the first nest box that I have put up that has been used by Willow Tits and this bird is the first recovery of a nestling Willow Tit that we have had away from its natal site. There is still so much to learn about this fantastic little bird and I just hope that we can learn enough about them before they go extinct in the county.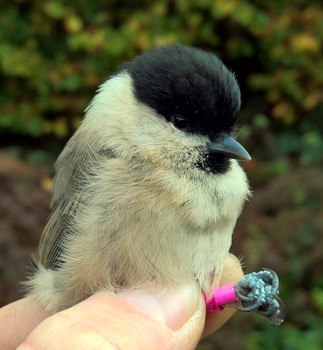 A couple of the team contributed bacon and bread and Noah showed us his cooking skills and once again we enjoyed a bacon sandwich, this is a really good habit that we are getting into! MP, AF, PW, NW, AM, GH, NJP, TW
Willow Tit 2 (1), Marsh Tit 1 (2), Goldcrest 56 (3), Coal Tit 11 (3), Treecreeper 2 (1), Blue Tit 9, Great Tit 10, Long Tailed Tit 14, Chaffinch 11, Bullfinch 4, Yellowhammer 1, Wren 6, Robin 6 (1), Dunnock 9 (1), Redwing 6, Blackbird 1, Great Spotted Woodpecker 1
30th October 2016 - Thames Valley
It was again left to Noah and his superscribe Dad to join me at this lovely little site close to the River Thames. We run a feeding station at this site and it is set in farmland with really high quality hedgerows. We knew that with the mild weather we would not get the flocks of Reed Buntings and Yellowhammers that we are used to here but regardless of that, we enjoyed a lovely morning made even better by Noah cooking bacon sandwiches.
Large flocks of Redwings and Fieldfares flew over all through the morning but we only caught Redwings and only 15 at that which is quite low for this site. The morning was dominated by Dunnocks and this is one of our largest catches of this species for some years. Star bird of the day was a Blackcap that we originally ringed in April 2015, this bird is either a breeding bird leaving late or it has been unlucky being caught on migration both north and south.
We finished a little earlier than normal so that I could get to watch my son play rugby but we still ringed 97 new birds and processed 7 retraps. MP, NW
Redwing 15, Blackbird 11 (2), Song Thrush 1, Chaffinch 7, Greenfinch 1, Dunnock 22, Robin 3 (1), Wren 9, Goldcrest 4, Blue Tit 12 (1), Great Tit 5 (2), Long Tailed Tit 3, Blackcap 2 (1), House Sparrow 1, Great Spotted Woodpecker 1
29th October 2016 - Swindon STW
With it being half term most of the team were not available so it was just Noah and me out today. Once again I set some wader nets, a Redwing set and a few passerine nets. Redwings came in steadily but without any particular influx and we ended up with 16 ringed, but there was a little passage of Blackbirds and we ringed 10 during the morning. Two Snipe continued our success with them this year but it was clear that there was a slight lull in their passage but we know that we will get another influx fairly soon.
Water Rails were calling so we must have a go at catching them soon. Late in the morning we saw four Green Sandpipers fly over and descend into a lagoon and a minute later three flew out so it was no surprise to see one in the net. This is our third of the year which is a fairly typical year for us and Noah ringed it, how many fifteen year olds have ringed three Green Sandpipers in the UK???
We use large mesh nets to catch Redwings because they don't fall out of them like they do in normal nets, the only issue with these nets is that if you catch a small passerine in them they can be difficult to extract if one is inexperienced. To avoid this I set these nets away from the usual areas but on one check of the net I did see a Reed Bunting in it, and boy was I surprised when I could clearly see that it had a foreign ring on it. With all of the eastern vagrants turning up in the UK, this bunting could have been anything but it was just a Reed Bunting but the ring was from the Stockholm scheme and beats any vagrant in my book, after 17 years of ringing and our team processing over 4000 Reed Buntings this is our first ever foreign control and I cannot tell you how delighted I am at recording it at my favourite ringing site. There have been fewer than ten previous Swedish ringed Reed Buntings recorded in the UK.
A bit later on, we tried a roost at Moulden Hill Lake but it failed but we had a good time setting the roost nets and listening to Water Rails. MP, NW
Green Sandpiper 1, Snipe 2, Redwing 16, Song Thrush 1, Blackbird 10 (1), Reed Bunting 3 (1), Chaffinch 3, Chiffchaff 24 (1), Blackcap 8, Goldcrest 5, Long Tailed Tit 5 (7), Great Tit 2, Blue Tit 1, Wren 10 (2), Robin 3 (4), Dunnock 7, Bullfinch 0 (1)
22nd October 2016 - Salisbury Plain (east)
After the recent success at this site we quite fancied another go as this site could produce anything and with Yellow Browed Warblers being caught at all manner of sites across the UK in their largest ever influx we keep going out fancying our chances of catching one. We also wanted to catch some more Skylarks and so set a couple of nets for them.
The Skylark set only produced one but it was a first for Noah to ring. The morning was dominated by huge flocks of Goldfinches MP, NW, GH
Skylark 1, Stonechat 1, Redwing 22, Song Thrush 2, Goldcrest 8 (2), Treecreeper 1, Blackcap 1, Blue Tit 5, Great Tit 7, Long Tailed Tit 14 (1), Goldfinch 13, Linnet 1, Bullfinch 1, Reed Bunting 8, Chiffchaff 4, Robin 1, Dunnock 4, Wren 2, Meadow Pipit 1
15th October 2016 - Swindon STW
After doing an awful lot of work to cut back vegetation to benefit Snipe and Jack Snipe we were really excited whilst setting three wader nets. We only set a few nets for passerines as the sewage works tends to not produce that much at this time of year. We struck gold with the wader nets and we ringed three Jack Snipe and a Snipe. Two nets targeting Black Headed Gulls came up trumps with one. I also set a sneaky little net in a shaded area and played Grey Wagtail tape and this caught three but one of them was a retrap from this time last year.
As one would expect at this time of year, passerine numbers were well down but even so we managed a creditable 22 Chiffchaffs and 12 Blackcaps but surprisingly we caught another two new Cettis Warblers so maybe our pair did manage a second brood?
We had quite an elaborate net set for Redwings but it only caught three so despite huge numbers being caught in northern England only a handful have made it to the southern counties so far.
This was a lovely little session and we were all delighted to ring the waders and the supporting cast took the days total to 78 new and 9 retraps. MP, AF, AM
Jack Snipe 3, Snipe 1, Black Headed Gull 1, Magpie 1, Chiffchaff 22, Blackcap 12, Cettis Warbler 2, Goldcrest 4, Pied Wagtail 4, Grey Wagtail 2 (1), Meadow Pipit 1, Dunnock 1 (2), Robin 0 (2), Wren 9, Reed Bunting 2, Goldfinch 1, Bullfinch 2, Blackbird 6, Redwing 3, Blue Tit 1 (2), Long Tailed Tit 0 (2)
9th October 2016 - Salisbury Plain (east)
As there were only two of us I thought that a session on the Salisbury Plain targeting Skylarks in particular would mean that we wouldn't catch many but they would be interesting birds if it worked. The night was clear but just as we arrived to set nets, a mist formed and the only part of the entire area that wasn't cloaked in the mist was my ringing site. What then happened was a complete surprise, especially as I set a lot fewer nets than normal. As usual we set nets before light but we set a two-shelf set in the open for Skylark first and the round at dawn produced an amazing 5 Skylark. A large flock of thrushes appeared and the Fieldfares all missed but we did manage to catch our first 6 Redwings of the autumn. It all then got very busy as a flock of Goldcrests went into one net and then the nets filled with a completely unexpected fall of Chiffchaffs. Gary got to ring several new species including Yellowhammer and Linnet and he also got to extract a few birds as well.
In hindsight it appears that the mist caused a little fall of Chiffchaffs as it is unusual to catch such numbers at this time of year away from the special Swindon STW. MP, GH
Skylark 5, Meadow Pipit 6, Chiffchaff 43, Blackcap 12, Goldcrest 22 (1), Yellowhammer 5, Reed Bunting 6 (1), Linnet 10, Goldfinch 3, Treecreeper 2, Wren 9, Blue Tit 11 (1), Great Tit 2, Coal Tit 2, Long Tailed Tit 2, Robin 8, Dunnock 5, Redwing 6, Song Thrush 5, Bullfinch 0 (1)
8th October 2016 - Kennet Valley
This site is our Willow Tit site but in recent years it has been ravaged by timber extraction and it is clear that the Willow Tits have declined drastically as a result. When we ring this site we make sure that we have a large team because we catch lots of Goldcrests and being so miniscule they need to be released quickly and also this site can host large numbers of tits which can be a test to extract from the nets.
Today most of the team were out, but with the mild weather of late the number of birds visiting the feeders has been quite low and so Goldcrests aside, it was a day to sit around and have a chat and enjoy the small flocks of Crossbills that were flying overhead. Anna had to leave early to get back to her young family and typically as soon as she had left site we caught a Siskin, a species that somehow has eluded her.
We didn't catch any Willow Tits but I did hear one briefly, so at least they still persist in the wood.
Right at the end of the morning we caught a lovely male Sparrowhawk which was a first for Noah, we don't catch many and it is always good to work through raptor handling with the team to ensure that they learn the correct techniques to ensure that they handle the birds safely both for bird and ringer.
We ended up ringing 106 birds with the catch totally dominated by a very impressive 80 Goldcrests and it is testament to the quality of the team that this session was remarkably easy going. MP, AF, PW, NW, AM, GH
Sparrowhawk 1, Siskin 1, Marsh Tit 1, Goldcrest 80 (1), Chiffchaff 1, Coal Tit 13 (2), Blue Tit 4, Treecreeper 1 (1), Wren 2, Chaffinch 1, Robin 1 (1)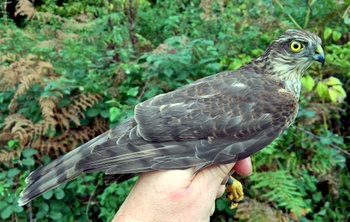 Information about WOS
Wiltshire Ornithological Society was formed on November 30th, 1974, and has grown in recent years to more than 500 members.
Our mission is to encourage and pursue the study, recording and conservation of birds in Wiltshire
Portraits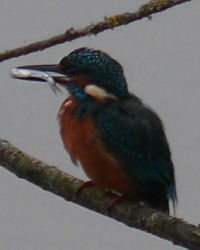 Latest News

CWP Coordinated Gull Roost Count The last coordinated count of gull roosts in the CWP was undertaken in winter 2005/06. In conjunction with the BTO Winter Gull Roost Count in 2003/2004 and a series o...

A new Atlas section has been added to the web site. This shows distribution and abundance maps for most of the birds that can be found in Wiltshire. To access the Atlas, select Atlas from the menu i...