North Wilts Group
12th March 2017 - Swindon STW
Whilst doing some other work one evening I noticed a reasonable Linnet roost of 50 plus going into some brambles. I told the team and they were keen to target them as we do not ring that many Linnets and people wanted to brush up their id skills.
A roost catch is great as it doesn't take that long and the results can be very good compared with the effort put in, and so tonight proved. 17 Linnets and then a control Reed Bunting was a fantastic return for two hours effort. MP, AF, NW, GH
Linnet 17, Reed Bunting 2 (1), Long Tailed Tit (1), Chifchaff 1, Dunnock 1Wren (1)
February & March 2017 - Dazzling
I have spent a lot of effort trying to catch waders at night in the past couple of winters. I have learnt an awful lot about the methods involved but there is still so much to learn. I have focused my efforts on the Salisbury Plain and the Marlborough Downs and our catches are low but the species we catch would not be caught by other methods. I have also found some Kestrels roosting in barns and have ringed a couple of them.
Highlights have been 2 Grey Partridge and a Lapwing but the most amazing record was of two Golden Plovers that were both caught in the same field as they were caught and ringed in, in January 2016. Not only is this amazing site fidelity but the chances of catching the same two birds a winter apart and not catching any other of the 200 birds is incredible.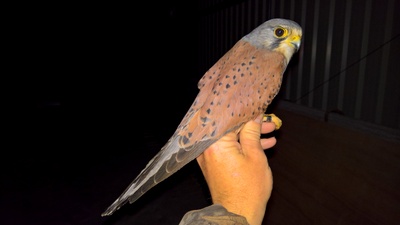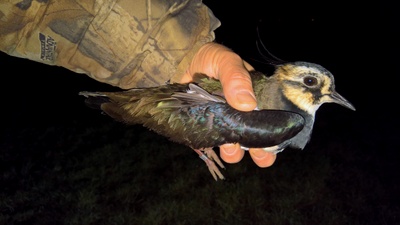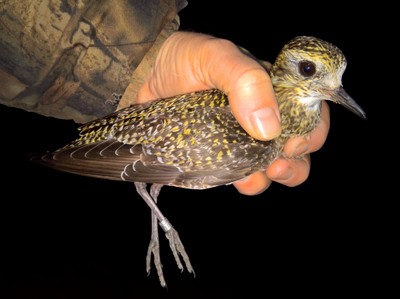 6th March 2017 - Savernake
We are working with Forest Enterprise and one of our aims is to try to find Willow Tits in Savernake Forest. We have been walking around searching for them and another method is to set up feeding stations to see if they will come to the feeders. These are the early days of our work here and we have not found Willow Tit but we did catch a fine cast of woodland species including 6 more Marsh Tits, they do seem to be quite common in woodlands across the county. MP, SW
Blue Tit 21, Coal Tit 19, Great Tit 8, Marsh Tit 6, Nuthatch 4, Treecreeper 1, Chaffinch 6, Lesser Redpoll 6, Robin 3, Woodpigeon 1
4th March 2017 - Thames Valley
It was just Simon and I for this session.
This site used to be a superb farmland bird site but a solar farm has been installed on what was once an arable field. The hedgerows are superb but the habitat loss is still obvious and has affected the numbers of farmland birds. The solar farm company has to date not fully fulfilled its obligations and our monitoring shows that the numbers of birds are down, we are speaking with the landowner and we are now feeding more supplementary food to get the birds through this winter and then we hope that the planning obligations are met to help the birds going forward.
Our net set today was around two feeding stations in a copse surrounded by arable farmland and high quality farmland. The sparrows are happy to come into the copse but the other farmland birds stay out. As it was just the two of us we enjoyed a lovely session ringing at a leisurely pace but at the back of our minds we both knew that we should be catching more Reed Buntings and Yellowhammers and that sowed a seed in my mind.
The farmer feeds a group of feral cats to keep the rats down but Tree Sparrows are intolerant of cats and so a few years ago we moved the feeders and this seems to have worked as a flock of about 30 Tree Sparrows was present which is a good number for this site. MP, SW
Tree Sparrow 4 (3), House Sparrow 2, Reed Bunting 14 (1), Yellowhammer 12 (1), Chaffinch 32 (1), Linnet 3, Dunnock 8 (2), Robin 3 (1), Blue Tit 2 (1), Great Tit 8 (1), Goldcrest 2
26th February 2017 - Woodland SSSI
A landowner who owns a woodland that is a Site of Special Scientific Interest has asked me to help them survey their woodland to assist them manage their wood because it is currently classed as being in Unfavourable condition. The strange thing with this site is that nothing has changed on site and Natural England are not specific about what the site was notified for and what needs to be done to bring it back to 'condition'.
I have promised to do some butterfly surveys in the summer but my main focus will be the birds. The great thing is that this is a wholly private estate and all the staff including the game keeper are fully on board to the point where the estate has funded the feed and the rings and the keeper is now filling the feeders in the winter. On the way in, we bumped into the deer stalker and whereas I find some deer stalkers particularly difficult, this chap was fantastic and we had a great chat and I ended up giving him a little ringing demo.
To be honest I didn't expect a lot from this session, but it did pleasantly surprise me. I was joined by Anna and Noah and we set up short nets around two feeding stations which would give us a fair sample of the birds of the wood. 80 birds was a pretty decent catch and shows that the site isn't too bad and strengthened by the presence of four Marsh Tits. Seven Goldcrests was pretty good as was seeing three Woodcock that roost in the wood undisturbed by dog walkers.
We will definitely be doing some more monitoring here and it feels worthwhile, helping an engaged landowner to try to turn their woodland into favourable condition. MP, AF, NW
Marsh Tit 4, Blue Tit 23, Coal Tit 14, Great Tit 19, Long Tailed Tit 3, Chaffinch 3, Goldcrest 7, Nuthatch 2, Treecreeper 1, Robin 3, Magpie 1
19th February 2017 - Pewsey Downs
The farm we were ringing today is the smelliest of our farms as the cows are fed with maize silage which is very rich and the arising slurry is particularly potent. However, it is also one of the best Tree Sparrow sites in the country with a flock of c300 present. The game cover has collapsed this year and the farm has been plagued by rats and so we have not fed on the ground this year resulting in a much smaller catch than we usually get at this site.
Most of the retrap Tree Sparrows were ringed as nestlings at the same site the previous summer but there was one from 2015 and then one from the summer of 2012 which is exceptional for a Tree Sparrow but we also caught this individual as a breeding female in the summers of 2015 and 2016. We also controlled five from a site 3km west and two from 2km north.
Corn Buntings have been very scarce at this site this winter and the were not many present but we managed to catch one that was originally ringed at the same site in April 2016. For most ringers a catch of 81 new and 31 retraps would be excellent but for this site, this is quite a poor catch. MP, GH, NW
Tree Sparrow 8 (24), Corn Bunting 1, Yellowhammer 37 (2), Reed Bunting 2, Linnet 1, Chaffinch 14, Great Tit 2 (1), Robin 5 (1), Dunnock 7 (3), Blackbird 2, Fieldfare 1, Woodpigeon 1
18th February 2017 - Bedwyn Common
Fresh back from the heat of Bangladesh, I was wrapped up in many layers for this session. We weren't sure if the session was going to take place due to rain being possible but thankfully it held off and we enjoyed a lovely session. I was joined on the day by Olly Fox but sadly Gary couldn't join us though he had done a superb job of keeping the feeders fed and it served us well. Coal Tits dominated the morning with 41 ringed and 22 retrapped comprised eleven from earlier this winter, seven from last winter and two from two winters ago. Any woodland ringing session includes lots of Blue Tits and we ringed 22 today but the retraps were decent with six from earlier this winter, three from last winter, one from two years ago, one from three years ago and one old timer from five years ago.
This winter has been very poor for Bramblings and we heard one today and then towards the end we caught it. The main reason that we ring at this site is because we are trying to create Willow Tit habitat here and today we were very excited because we ringed one and then we retrapped another that we ringed as a nestling in our nest box a couple of kilometres away. MP, OF
Willow Tit 1 (1), Marsh Tit 3, Coal Tit 41 (22), Blue Tit 21 (12), Great Tit 5 (10), Nuthatch 2 (3), Brambling 1, Chaffinch 9, Lesser Redpoll 6 (1), Dunnock 1, Robin 6 (7), Blackbird 6
Bangladesh - 20th January to 11th February 2017
I have just returned from an expedition working with the Bangladesh Bird Club and the International Union for the Conservation of Nature monitoring birds in Bangladesh for Avian Influenza whilst also monitoring the birds that winter at their wetland nature reserves. Another major part of my role was to train the local ringers to improve their skills and we ringed over 60 species including some known to us European birders including Pallas's Grasshopper Warbler, Brown Shrike, Richards Pipit, Citrine Wagtail and Baillons Crake with the most common species being Paddyfield Warbler, Blyths Reed Warbler and Dusky Warbler.
Dusky Warbler
Blyth's Reed Warbler
Paddyfield Warbler
The team targeted wildfowl and we ringed Red Crested Pochards, Ferruginous Duck, Cotton Teal and quite a few Coot. This is really important work because domestic duck herders move their huge flocks around the lakes mix with wildfowl and so both were tested for avian influenza.
Travelling around Bangladesh is extremely difficult and the driving conditions are terrible with basically no road laws so we were driven around to the far flung corners of the country to get to the nature reserves. My particularly favourite reserve was Tanguar Haor which is a RAMSAR site and is a massive wetland that supports tens of thousands of wildfowl. The speciality bird of Tanguar is a robin-like bird called a Firethroat that is about as secretive as a bird can be and its presence would simply not be known were it not for ringing and the knowledge gained from these expeditions is changing the status of the species from a vagrant to a winter visitor.
Baillon's Crake
Our last mission was to an island in the middle of the River Ganges to take biometrics of a range-limited bird called a White Tailed Stonechat for a professor at Bangkok University, we were very successful catching 11 of them and these were the first ringed in Bangladesh as previous efforts had failed. On the same day, we were very lucky to catch a Nightjar and we could not work out what it was based on the distribution maps in the field guide and then we worked out that it was in fact a Sykes Nightjar and thus a first for Bangladesh but it was over a thousand miles east of the previous known range. On the same afternoon we also saw a superb male Hen Harrier and this is a national rarity and so this day proved to be a true red letter day. MP
White-tailed Stonechat
Firethroat
Sykes's Nightjar - 1st Bangladesh record
Information about WOS
Wiltshire Ornithological Society was formed on November 30th, 1974, and has grown in recent years to more than 500 members.
Our mission is to encourage and pursue the study, recording and conservation of birds in Wiltshire
Portraits
Latest News

CWP Coordinated Gull Roost Count The last coordinated count of gull roosts in the CWP was undertaken in winter 2005/06. In conjunction with the BTO Winter Gull Roost Count in 2003/2004 and a series o...

A new Atlas section has been added to the web site. This shows distribution and abundance maps for most of the birds that can be found in Wiltshire. To access the Atlas, select Atlas from the menu i...